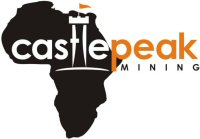 VANCOUVER, BRITISH COLUMBIA -- (Marketwired) -- 04/30/13 -- Castle Peak Mining Ltd. ('Castle Peak' or the 'Company') (TSX VENTURE: CAP) is pleased to report a preliminary mineral resource estimate conducted by SEMS Exploration ('SEMS') of Accra, Ghana for the Akorade Project in the southern Ashanti belt. The mineral resource estimate was calculated based on results from 20 of 33 drill holes totaling 4,253 metres ('m') of drilling in a series of parallel structures within the Apankrah Target Area. The inferred mineral resource estimate, with an effective date of April 26, 2013, is as follows:


----------------------------------------------------------------------------Zone             Category         Tonnes     Grade (/t Au)  Contained Ounces----------------------------------------------------------------------------Apankrah Shoot   Inferred        275,000               8.6            76,000----------------------------------------------------------------------------(i)Mineral resources are reported at a cut-off grade of 2 grams per tonne('g/t') gold ('Au'). Cut-off grades are based on a price of $1,400 USD/ozAu. All figures are rounded to reflect the relative accuracy of theestimate. Mineral resources are not mineral reserves and do not havedemonstrated economic viability. Mineral resources have been classifiedaccording to CIM Standards on Mineral Resources and Reserves.
The preliminary mineral resource estimate was conducted by SEMS to estimate the amount of gold defined to date within the Apankrah Shoot, which is situated immediately south of two parallel structures (Nana and Scorpio), where high grade mineralization with visible gold has been intersected in first pass drilling (see figure 1). Both the Nana and Scorpio structures require further drilling to confirm their potential to host mineral resources.
The Company has identified two other structural targets in the area, both of which require drill testing: (1) an induced polarization anomaly ('IP Structure') anomaly lying approx. 250 metres to the south of the Apankrah structure, which mimics the geophysical characteristics of the Apankrah Shoot, and (2) an artisanal mining operation ('Galamsay Structure') running along an east-north-east trending structure found approximately 700m to the north of the Nana structure (see figure 1 at
http://www.castlepeakmining.com/s/NewsReleases.asp?ReportID=582600
). These targets remain a top priority for further exploration designed to expand the newly defined high grade mineral resource base.
President and CEO Darren Lindsay is pleased with the announcement of the resource estimate and the decision to move forward with this prospective target area. "This is one of only a handful of high grade projects in West Africa, and one of only a few in Ghana." He adds, "This is a major milestone for Castle Peak shareholders, and I look forward to further drill evaluation of these additional structural targets to increase our mineral resource base. The high grade nature of this deposit will play a key role in assessing the preliminary economics in an area that is currently known for larger, lower grade mineral resource development and mining."