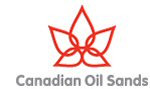 CALGARY, ALBERTA -- (Marketwired) -- 04/30/13 -- Canadian Oil Sands Limited (TSX: COS) (OTCQX: COSWF)

All financial figures are unaudited and in Canadian dollars unless otherwise noted.

Highlights for the three months ended March 31, 2013:


--  Cash flow from operations was $275 million ($0.57 per Share) in the    first quarter of 2013 compared with cash flow from operations of $454    million ($0.94 per Share) in the same quarter of 2012.--  The quarter-over-quarter decrease in cash flow from operations reflects    lower sales volumes and higher current taxes, partially offset by lower    Crown royalties.--  Net income for the first quarter of 2013 was $177 million ($0.37 per    Share), down from $318 million ($0.66 per Share) in the 2012 first    quarter.--  COS maintained its quarterly dividend at $0.35 per Share, payable on May    31, 2013 to shareholders of record on May 24, 2013.--  Sales volumes averaged 95,700 barrels per day in the first quarter of    2013 compared with volumes averaging 108,100 barrels per day in the    first quarter of 2012.--  Operating expenses were $355 million, or $41.20 per barrel, in the first    quarter of 2013 compared with $320 million, or $32.58 per barrel, in the    same quarter of 2012.--  As planned, capital expenditures increased to $268 million in 2013 from    $141 million in 2012, as a result of spending on the major projects at    Syncrude to replace or relocate mine trains and to support tailings    management plans.--  Net debt (long-term debt less cash and cash equivalents) increased to    $361 million at March 31, 2013 from $241 million at December 31, 2012.    Net debt levels are expected to rise over the next two years, as COS    draws down its $1,471 million cash balance at March 31, 2013 to fund the    major capital projects program. Spending on this program is expected to    significantly taper off after 2014.
"Syncrude production was lower than expected this quarter, as we experienced several unplanned outages in extraction and upgrading. Syncrude has performed the maintenance required to address the extraction issues and is investigating the root cause of the hydrotreating outages in the upgrader. We believe the issues that impacted operations since late 2012 have been resolved, however, to reflect the impact of our first quarter results we have reduced our 2013 production Outlook by about five per cent," said Marcel Coutu, President and Chief Executive Officer. "While we believe implementation of ExxonMobil's Global Reliability System at Syncrude is the best course of action to improve performance and reduce unplanned production losses, it is a long-term, comprehensive strategy that is being applied to tens of thousands of pieces of equipment; as such, it will take time to fully implement and become embedded in Syncrude's culture."
"Importantly, COS remains in a strong position to fund our capital program and to maintain our $0.35 per Share quarterly dividend through 2013 based on our Outlook," added Mr. Coutu. "In the first quarter, our Synthetic Crude Oil received a premium to West Texas Intermediate, resulting in a higher than expected average price of $96 per barrel. With the expectation that we will continue to receive a premium to WTI for the first half of the year, we have raised our estimate for our average realized price for SCO in 2013 to $85 per barrel."
Highlights                                                   Three Months Ended                                                        March 31                                                        2013           2012----------------------------------------------------------------------------Cash flow from operations(1) ($ millions)        $       275    $       454 Per Share(1) ($/Share)                          $      0.57    $      0.94Net income ($ millions)                          $       177    $       318 Per Share, Basic and Diluted ($/Share)          $      0.37    $      0.66Sales volumes(2) Total (mmbbls)                                          8.6            9.8 Daily average (bbls)                                 95,683        108,108Realized SCO selling price ($/bbl)               $     96.11    $     97.07West Texas Intermediate ("WTI") (average $US/bbl)                                        $     94.36    $    103.03SCO premium (discount) to WTI                    $      0.88    $     (5.89) (weighted average $/bbl)Operating expenses ($/bbl)                       $     41.20    $     32.58Capital expenditures ($ millions)                $       268    $       141Dividends ($ millions)                           $       170    $       145 Per Share ($/Share)                             $      0.35    $      0.30--------------------------------------------------------------------------------------------------------------------------------------------------------(1) Cash flow from operations and cash flow from operations per Share are    additional GAAP financial measures and are defined in the "Additional    GAAP Financial Measures" section of our "Management's Discussion and    Analysis ("MD&A")".(2) The Corporation's sales volumes differ from its production volumes due    to changes in inventory, which are primarily in-transit pipeline    volumes. Sales volumes are net of purchases.