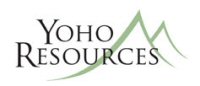 CALGARY, ALBERTA -- (Marketwired) -- 04/03/13 -- Yoho Resources Inc. ("Yoho" or the "Company") (TSX VENTURE: YO) is pleased to provide an update of operations at Kaybob, Alberta and Nig, British Columbia.

Kaybob, Alberta

At Kaybob, Yoho's recently drilled Duvernay wells at Tony Creek at 14-21-62-21 W5 (75% working interest) and at 1-16-62-21 W5 (75% working interest) (press release February 4, 2013) along with the 13-22-62-21 W5 well (50% working interest) have been on-stream and producing from one to four weeks. Total production from these three wells is currently estimated at 1,400 net (2,100 gross) boe per day (net 4.0 MMcf per day and net 730 barrels of natural gas liquids of which approximately 65% is condensate). Field netbacks for the Company's' Duvernay production were $39.61 per boe during fiscal Q1. Yoho's current corporate production is estimated at 3,600 to 3,700 boe per day, including the early production from these wells. The high liquids content of the Company's natural gas production (100 - 160 barrels per Mmcf) from the Duvernay formation makes this play's economics very attractive at current commodity prices. Yoho's drilling and production results to date have been encouraging and costs have continued to come down. The Duvernay program continues to generate momentum and, as a result, Yoho plans to drill up to 4 gross (2 net) wells here by the end of 2013.

Also at Kaybob, Yoho has acquired a 25% working interest in three additional highly-prospective sections of Duvernay P&NG rights in the gas-condensate window. The additional land is located approximately 1 1/2 miles from the Company's land at Tony Creek. Subsequent to this acquisition, the Company's current Duvernay land position at Kaybob is 57 gross (21.75 net) sections. Yoho has an estimated 150 additional net Duvernay development drilling locations on existing lands at Kaybob.

In a separate transaction, Yoho purchased gross overriding royalties from a third-party on eight gross sections of its Duvernay lands, including those lands containing the three Tony Creek wells mentioned above. The gross overriding royalties ranged from 4% to 6% on the Company's Duvernay production and resulted from farm-in agreements that Yoho negotiated previously.

Nig, British Columbia

At Nig, British Columbia, Yoho has closed an asset exchange transaction with its partner in the Nig lands whereby each party exchanged 50% of their working interest in certain lands. As a result of this transaction, Yoho now holds 100% in 29 gas spacing units in the southern land block at Nig in exchange for the Company's interest in the northern land block at Nig. This transaction was completed with only very minor changes in net production, reserves and net present value.

About Yoho

Yoho Resources Inc. is a Calgary based junior oil and natural gas company with operations focusing in West Central Alberta and northeast British Columbia. The common shares of Yoho are listed on the TSX Venture Exchange under the symbol "YO".

This press release shall not constitute an offer to sell or a solicitation of an offer to buy the securities in any jurisdiction. The common shares of Yoho will not be and have not been registered under the United States Securities Act of 1933, as amended, and may not be offered or sold in the United States, or to a U.S. person, absent registration or applicable exemption therefrom.