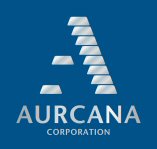 VANCOUVER, BRITISH COLUMBIA -- (Marketwired) -- 04/03/13 -- Aurcana Corporation ("Aurcana" or the "Company") (TSX VENTURE: AUN)(OTCQX: AUNFF) is pleased to announce the results of the 2012 exploration program at the Shafter Mine.

The 2012 exploration program at Shafter has identified evidence for a larger and more complex mineralizing system than previously recognized, with multiple discrete pulses of silver, silver lead-zinc, lead-zinc mineralization and over-printing silicification.

Dr. Peter Megaw, consulting geologist for Aurcana Corporation states: "Having evidence of complex, multiple stages at Shafter confirms we are exploring in a system with high potential, while demonstrating that although we still have not zeroed in on where to focus, continuing to do so is more than warranted. Seeing high complexity is a positive indicator for a long-lived, multi-staged, large system."

The main activity of the 2012 Shafter exploration program was an aggressive diamond drilling campaign focused on the near mine environment that totaled 36,000 feet in twenty-nine holes. A detailed map is available at: www.aurcana.com.

Drill holes were long angled holes designed to bend under known mineralization seeking evidence of a plumbing system and to look for additional potential in previously untested, deeper, limestone units. Major regional and mine structures were targeted. Eleven holes intersected mineralization in the Shafter and Presidio Mine horizons and provided additional infill data for the mine model.

In the Presidio Mine the drill program identified a major east-west trending structure (Herculano) that exhibits strong evidence of fluid movement and multiple dikes proximal to historic workings, which contain significant mineralization. Sulphide-bearing, strongly silicified breccia bodies are present that are cross-cut by later structurally controlled mineralization. These features suggest a prolonged geologic history of multiple episodes of structural re-adjustment, with multiple phases of mineralization and silicification. Further investigation is warranted to clarify if the structure is a feeder to the adjacent Santiago manto at Presidio.

Quality Assurance - Quality Control

Sample intervals of drill core were two feet. One half of the cut core was placed in labeled polyethylene sample bags along with a sample tag and secured with a wire tie. Control standards and blanks were inserted into the sample batch by company geologists.

All samples were sent to Pinnacle Labs or American Analytical Labs in 2012 and were submitted by courier. Duplicate samples of returned pulps from selected high and low grade silver assays from Pinnacle Labs were sent for re-assay to American Analytical Labs for QA-QC purposes.

Samples were dried and reduced to minus ten mesh. A 250 gram sub sample was obtained and pulverized to 90% passing 150 mesh by ring and puck pulverizer. Multi-element analysis on 72 elements (including gold) consisted of 2 acid digestion and analysis by ICP-OES which was the standard method used in 2012. Silver and gold values greater than 2.917 Opt (100 ppm) were determined by Fire Assay with a gravimetric finish using a 30 gm prepared sub sample. Pulps and rejects from the assay process were returned to the company.