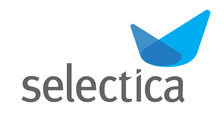 SAN MATEO, CA -- (Marketwired) -- 04/29/13 -- Focused on improving visibility and configurability of its best-selling Contract Lifecycle Management solution, Selectica (NASDAQ: SLTC), today announced the immediate availability of its latest release of Selectica Contract Lifecycle Management. Selectica CLM version 6.0. offers better contract approval process visibility and control, a deeper level of contextual insight into the formation of each contract, and more customization opportunities. The product offers a proven track record of accelerating sales cycles and streamlining contract processes.

"Our customers have resoundingly asked for more out-of-the-box functionality and more effective ways to manage complex approvals, and CLM 6.0 delivers all that and more," said Jason Stern, President and CEO at Selectica. "Contract management is a complex and detailed process and is a critical step for a wide range of industries. Our solution delivers all the features and functionality to allow executives to complete deals quickly, without sacrificing control or losing potential revenue."

Selectica Contract Lifecycle Management allows companies with complex contract processes to manage contracts from request, authoring, and negotiation, through ongoing obligation management and renewal. It delivers at-a-glance contract information with fewer clicks, allows users to easily request additional information from other stakeholders in the deal if necessary, and helps complete deals quickly using today's most popular eSignature vendors.

Key features and functionality enhancements in the latest release of Selectica CLM include:

•More eSignature options: Selectica CLM now integrates with both EchoSign and DocuSign, giving users their choice for contract eSignature. •New Composer UI: A revamped user interface for the Composer tool makes it easier for administrators to write approvals rules by modeling complex logic with UI clicks rather than coding. •Full contract approvals visibility: A log that can be viewed in the approvals stage includes a list of all significant contract events that transpired during the approvals process, including approvals, task reassignments, rejections, notes, and pertinent contract details. •"Request More Information" feature: The "Request More Information" feature allows approvers to ask anyone in the approvals workflow for additional details on a contract before they approve, reject, or reassign it. When a user receives a request for more information, they can respond with comments and attach files, which are all tracked in the system with the contract record.

The eSignature and approvals enhancements in Selectica CLM 6.0 complement recent Aberdeen Group research, which shows 37% of respondents viewed reduced contract cycle time as a top performance indicator that measures contract management strategy performance.