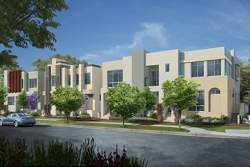 Models near completion for The Townes neighborhood in gated ThreeSixty



HAWTHORNE, CA -- (Marketwired) -- 04/29/13 -- Exciting developments are underway at The Townes by William Lyon Homes, as the models near completion at this groundbreaking collection at gated ThreeSixty. Homebuyers who appreciate the timeless beauty and function of classic modern architecture will find The Townes a rare opportunity where historic LA design meets the future in the South Bay. With pre-sales anticipated before the end of May 2013, and the model grand opening currently scheduled for early Summer 2013 get connected now for The Townes, the first neighborhood of its kind in the nation, by visiting www.lyonhomes.com/the-townes to join the interest list and receive the latest updates on special events. Prices are anticipated from the low $600,000s to the low $700,000s.

"Once in a great while, an opportunity comes along that changes everything. The Townes is destined to be that neighborhood, with designs that take its inspiration from classic modern LA architecture introduced at the turn of the century," said Lesley Pennington, Vice President of Sales for William Lyon Homes. "This brand new South Bay address will bring innovation to the next level by unveiling features and room configurations not ordinarily seen in townhomes anywhere in the country. In the coming months, The Townes will present attached designs that incorporate the clean lines, efficient spaces and bright interiors reminiscent of nostalgic LA homes and landmarks. We encourage homebuyers to register their interest at their earliest convenience so we can keep them apprised as The Townes prepares for its pre-sales opening."

The Townes' inventive floorplans will reveal expansive, panoramic windows, spacious bedrooms, kitchens with islands, two-car garages with additional storage and large decks to enjoy cool ocean breezes. Select designs will offer ground-level living suites, dens, lofts, flex space and a unique two-car bypass garage that further underscore the homes' smart planning. Five attached designs will range from approximately 1,579 to 2,106 square feet, with two bedrooms plus a den and up to four bedrooms plus den or loft, and 2.5 to 3.5 bathrooms.

The award-winning ThreeSixty community is home to 211 residents and more than 100 new homes were sold in 2012, results that underscore the incredible appeal and value of The Flats, The Row and The Garden neighborhoods. Discover ThreeSixty by touring the individual model homes or log onto www.360southbay.com and Like ThreeSixty on Facebook.