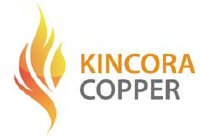 VANCOUVER, BRITISH COLUMBIA -- (Marketwired) -- 04/29/13 -- Kincora Copper Limited (the "Company", "Kincora") (TSX VENTURE: KCC) has today filed its annual operational and financial results for the year ended December 31st, 2012. The Company's audited Consolidated Financial Statements and Management's Discussion and Analysis has been filed with SEDAR, and is available on the Company website at www.kincoracopper.com.

John Rickus, President and CEO commented, "The year 2012 was dominated by global economic contractions with the junior resource industry impacted particularly hard. Despite significant progress delivering on our stated exploration, development and acquisition strategy a series of adverse external and Mongolia specific uncertainties over this period, and emerging into 2013, have adversely affected our share price performance in particular and as well as that of most Mongolian asset classes which are trading at or near 52 week lows (or significantly longer). As such we have taken measures to strengthen the Company, align our strategy with current market conditions and I thank our shareholders for their ongoing support.

"While the Bronze Fox license remains our flagship project, with field season activities in 2012 confirming and significantly advancing a number of copper porphyry targets at the West Kasulu prospect, I am pleased to confirm that recent correspondence with MRAM confirms all our licenses are in good standing. Uncertainty relating to our lower priority two Golden Grouse licenses has undoubtedly impacted our share price and led to Kincora trading at a clear discount to its listed Mongolian copper exploration peers.

"Kincora continues to closely monitor key events and political developments in respect to mining and foreign investment laws. In particularly the expected resolution of current issues facing Oyu Tolgoi, the largest proposed project financing in the mining industry and achievement of Stage 1 commercial production by the end of June, is likely to be a very positive catalyst favourably impacting investor sentiment to Mongolia. This event is scheduled to occur at a time when Presidential elections will conclude (June 26th), which will bring to a close a highly uncertain two year political cycle following Parliamentary elections and the subsequent change in Government last year."

John Rickus further noted, "Finally, I would like to thank our Director of Exploration, Yawen Cao, and his Mongolian team for their continued hard work particularly as we shortly resume exploration activities. To reach this stage of exploration and development activities at Bronze Fox is a very commendable achievement particularly bearing in mind our licenses are only in their fourth year.

"Despite the significant uncertainties that have emerged since mid last year we see recent external events as potential catalysts for an improvement in market sentiment towards Mongolia and especially Kincora. We note that the Mongolian Parliament has already supported an amendment to the Foreign Investment Law (SEFIL) and a proposed amendment to the securities market law. Similarly Erdene Resource Development Corp.'s strategic alliance with Teck Resources Limited is a sign of strategic investors continued interest in Mongolia, in particular, copper exploration. Kincora remains comfortably funded with planned exploration activities expected to significantly advance our asset portfolio. "