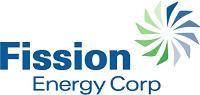 KELOWNA, BRITISH COLUMBIA -- (Marketwired) -- 04/29/13 -- FISSION ENERGY CORP. ("Fission" or the "Company") (TSX VENTURE: FIS)(OTCQX: FSSIF)(FRANKFURT: 6FS) advises that Fission's common shares ("Fission Shares") will cease trading on the TSX-V upon close of business on Monday, April 29, 2013 and are expected to be de-listed shortly after that.

Pursuant to the Arrangement between Fission and Denison Mines Corp. ("Denison"), each Fission Share held at the close of business on April 29, 2013 will entitle the holder to 0.355 of a common share of Denison ("Denison Shares"), a nominal cash amount of CDN$0.0001 and a common share of a newly incorporated exploration company, Fission Uranium Corp. ("Fission Uranium"). Fission Uranium's common shares are expected to commence trading on the TSX-V on Wednesday, May 1, 2013 under the symbol "FCU".

If you hold your Fission Shares through a broker or other person, please contact that broker or other person for instructions and assistance in receiving Denison Shares and Fission Uranium Shares in respect of your Fission Shares.

If you are a registered Fission shareholder, please complete and return the Letter of Transmittal together with the certificate(s) representing your Fission Shares and any other required documents and instruments, to the depositary, Computershare Investor Services Inc., in accordance with the instructions set out in the Letter of Transmittal. The Letter of Transmittal contains other procedural information related to the Arrangement and should be reviewed carefully. The Letter of Transmittal and Notice of Meeting and Management Information Circular contain detailed information to assist you in obtaining your Denison Shares and Fission Uranium Shares and are available on Fission's SEDAR profile at www.sedar.com. If you require assistance, you should consult your financial, legal, or other professional advisors. In addition, you can contact Computershare Investor Services Inc. at Toll Free: 1-800-564-6253 (North America); Phone: 1-514-982-7555 (Overseas); or Email: corporateactions@computershare.com.

About Fission Energy Corp. & Denison Mines Corp.

Fission Energy Corp. is a wholly owned subsidiary of Denison Mines Corp.

Denison Mines Corp. is a uranium exploration and development company with interests in exploration and development projects in Canada, Zambia and Mongolia. Including the high grade Phoenix deposits, located on its 60% owned Wheeler River project, Denison's exploration project portfolio includes 51 projects and totals over 700,000 hectares in the Eastern Athabasca Basin region of Saskatchewan. Denison's interests in Saskatchewan also include a 22.5% ownership interest in the McClean Lake Joint Venture, which includes several uranium deposits and the McClean Lake uranium mill, one of the world's largest uranium processing facilities, plus a 25.17% interest in the Midwest deposit and a 60% interest in the J-Zone deposit on the Waterbury property. Both the Midwest and J-Zone deposits are located within 20 kilometres of the McClean Lake mill. Internationally, Denison owns 100% of the conventional heap leach Mutanga project, in Zambia, and an 85% interest in the in-situ recovery projects held by the Gurvan Saihan Joint Venture, in Mongolia.