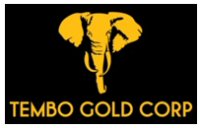 TORONTO, ONTARIO -- (Marketwired) -- 04/26/13 -- Tembo Gold Corp. (TSX VENTURE: TEM)(OTCQX: TBGPF)(FRANKFURT: T23) ("Tembo", or the "Company) is pleased to report additional results from its 2012 recent drill program on the Tembo Property in the Lake Victoria goldfield of Tanzania. These additional diamond drill holes and shallow, close-spaced reverse circulation (RC) holes from the Ngula 1 target were drilled as part of the Phase 1 drilling program on the Tembo property designed to test the continuity of the mineralized zones intersected earlier in the 2012 diamond drilling campaign. These results support the high-grade results previously reported from this target area.

Highlights of the latest drill results include:


--  TRC0001: 38.20g/t Au over 1.00m from 85m--  TRC0008: 3.75g/t Au over 6.00m from 35m--  TDD0146: 10.70g/t Au over 1.00m from 308m
David Scott President & CEO stated, "These drill hole results form part of both the Ngula 1 in-fill diamond drilling programme and the first close-spaced RC programme that is designed to test the continuity of the mineralized zones intersected in the 2012 diamond drilling campaign. The planned series of closer-spaced drill holes will provide us with the density of data we require to enable us to undertake geological modeling and resource definition. The data obtained from these holes will provide additional confidence in correlating and interpreting the structures and mineralization present at Ngula 1. Given the results obtained in the deepest Ngula 1 intersection to date (TDD0041 - which returned, 22.81g/t Au over 15.00m from 299.00m including 34.78g/t Au over 9.70m from 302.30m as previously reported), completion of the close spaced drilling programme will be deferred in favour of further testing of the deposit at depth."
The Ngula 1 Target
The Ngula 1 target consists of a 600m long, 150-200m wide corridor of massive and locally intensely sheared mafic meta-volcanic rocks bounded to the north and south by thin meta-sedimentary units. This package contains numerous intensely deformed, veined and altered shear structures that typically have elevated gold values. Based on the structural intersections achieved to date, the current interpretation is that the corridor of deformed meta-volcanic rocks contains two wide shear zones, one in the northern half and one in the southern half. A single section through the package may host as many as 5-10 such structures ranging in width from less than one metre to several tens of metres. The structures are predominantly steeply north dipping and are thought to represent sub-parallel and often interconnecting splays and subsidiary structures to the principle east-west shears, with secondary cross-cutting northwest and northeast structures also present. Zones of intersection and convergence are considered to be the favoured location for wider zones of mineralization and higher grades. Gold mineralization is closely associated with quartz veining, alteration and disseminated sulphides, which include dominant pyrrhotite, and lesser pyrite and chalcopyrite. The stronger and more sulphide rich structures (pyrrhotite) are interpreted to correspond closely to lineaments that are evident in the structural interpretation of magnetic imagery.