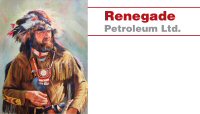 CALGARY, ALBERTA -- (Marketwired) -- 04/26/13 -- Renegade Petroleum Ltd. ("Renegade" or the "Company") (TSX VENTURE: RPL), a light oil focused exploration and production company with assets located in Saskatchewan, Alberta, Manitoba and North Dakota, is pleased to announce that, further to its press releases of April 15, 2013 and April 22: (a) the Renegade board of directors (the "Board") has added three new independent directors; (b) the Board has formed a special committee of the new independent directors to proceed with the previously announced strategic review of the Company's business plan; and (c) Renegade has adopted a shareholder rights plan (the "Rights Plan") and an advance notice by-law (the "Advance Notice By-law").

New Board Members

Renegade is pleased to announce the addition of Mr. Steven Sharpe, Mr. Herb Pinder and Mr. Thomas Budd to the Board. Renegade believes that the addition of these independent directors will significantly strengthen the Board through the addition of the combined skill sets, education and experiences of these three highly qualified individuals, particularly in light the previously announced strategic review of the Company's business plan and consideration of a broad range of alternatives to enhance shareholder value.

Renegade also announces resignations of Mr. Dallas Duce and Mr. Bill Ambrose. Renegade would like to thank Mr. Duce and Mr. Ambrose for their valuable contributions to the Company during their tenure.

The following is a brief biography on each of the new directors:

Steven Sharpe

Mr. Sharpe is currently Managing Director of The EmBeSa Corporation, a private consultancy dealing primarily with corporate restructuring, business strategy and crisis management. Mr. Sharpe is Chairman of Advantage Oil & Gas Ltd., a Calgary-based oil and gas company which trades on the TSX and New York Stock Exchange and Chairman of Longview Oil Corp., which trades on the TSX. He also currently sits on the Advisory Board of the Pine River Institute. Until the recent closing of the tender offer, Mr. Sharpe was Chief Executive Officer and a director of C.A. Bancorp Inc.

Previously, Steven was Senior Advisor to Blair Franklin Capital Partners Inc., the Toronto-based investment bank which he and Gordon Cheesbrough founded in 2002, and Chairman and CEO of the Prime Restaurants Royalty Income Fund. From 2002 until July, 2007, Steven was co-Managing Partner of Blair Franklin.

Through his career, Mr. Sharpe has gained considerable experience in the areas of strategic planning, restructuring, business development, conflict and governance issues, dealing with issuers with operational and financial challenges and business integration following M&A transactions. Mr. Sharpe graduated from Osgoode Hall Law School in 1977, and was called to the Ontario bar in 1979. He spent his legal career at the Torys firm, from 1979 to 1986, and Davies, Ward & Beck from 1986 to 1998. During that time, he spent a significant amount of time acting on behalf of investment and commercial banks, multinational companies, boards of directors and shareholders, providing all aspects of business advice, with an emphasis on strategic, conflictual and governance issues. Mr. Sharpe co-headed the Work-out and Restructuring Group at Davies, and participated in a variety of national and international situations, spanning a number of sectors of the economy.