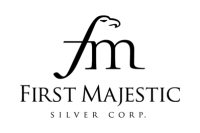 VANCOUVER, BRITISH COLUMBIA -- (Marketwired) -- 04/26/13 -- FIRST MAJESTIC SILVER CORP. (TSX: FR)(NYSE: AG)(FRANKFURT: FMV) (the "Company" or "First Majestic") is pleased to announce that on April 24, 2013, after a lengthy trial, the Supreme Court of British Columbia ruled in favour of First Majestic with respect to the previously reported litigation against Hector Davila Santos ("Hector Davila") (not related to the Company's Chief Operating Officer, Ramon Davila) and Minera Arroyo Del Agua, S.A. de C.V. (which subsequently became Minerales y Minas Mexicana, S.A. de C.V.).

In November 2007, the Company and its wholly-owned subsidiary, First Silver Reserve Inc. ("FSR") commenced an action against Hector Davila, the previous director, President & Chief Executive Officer of FSR. The Company alleged, among other things, that while Hector Davila held the positions of director, President and Chief Executive Officer of FSR, he violated his fiduciary duty to FSR and that subsequently, through Minera Arroyo, he acquired the Bolanos Mine from Grupo Mexico ("Grupo") for his own personal interest. FSR became a wholly owned subsidiary of First Majestic in September 2006.

The Honourable Mr. Justice Myers concluded that the Bolanos opportunity belonged to FSR and that Hector Davila did in fact breach his fiduciary duty by acquiring the Bolanos Mine. Mr. Justice Myers calculated in his ruling a net opportunity loss in favour of First Majestic in the amount of US$89.6 million, after reducing an initial amount of US$111 million for the post-acquisition investments of Hector Davila at the Bolanos Mine and applying a 15% reduction contingency. The US$89.6 million judgment does not include pre-judgment interest or legal costs, of which a portion is recoverable, nor has the court ruled on Hector Davila's counterclaim for, among other things, interest charges on the approximately CDN$14.250 million which has been held in Hector Davila's lawyer's trust account since July 2009. These issues, together with other outstanding issues, will be subsequently addressed by Mr. Justice Myers on a date to be scheduled. Under British Columbia law, Hector Davila has 30 days to appeal the April 24, 2013 judgment.

The Reasons for Judgment can be viewed on the Company's web site at www.firstmajestic.com/s/RelatedArticles until May 30, 2013. Significant excerpts from the 100 page judgment include the following:


--  "For the reasons that follow, I conclude that the Bolanos opportunity    belonged to First Silver and that Mr. (Hector) Davila breached the    fiduciary duty he owed to First Silver".--  "Mr. (Hector) Davila had a great deal of knowledge about Bolanos because    of his prior ownership of it. First Silver was entitled to the benefit    of that knowledge, especially since Mr. (Hector) Davila saw fit to have    First Silver pursue it. It was not up to him to unilaterally decide to    take it for himself".--  "The only conclusion that can be reached on this evidence is that Mr.    (Hector) Davila breached his fiduciary duty to First Silver by sending    the April 4th (2006) letter..."--  "Factually, I do not think there was a shared assumption regarding    Bolanos. Mr. (Hector) Davila did not assume that it was his opportunity;    rather, he knew it was First Silver's. The following excerpt from his    evidence is sufficient to show that:    Q: So at the moment you meet with Ramon Davila at the time that meeting       begins on April 3rd, 2006, it's First Silver that has the option to       acquire the Bolanos property, not Hector Davila Santos personally;       correct?    A: Correct, sir.    Q  And if -- and if you had not said anything at all about Bolanos on       April 3rd, 2006, if First Majestic became the majority owner of First       Silver one of the things that would be acquired, as insofar as it was       the majority owner, was FSR's option to pursue the Bolanos property;       correct?    A: Correct, sir.    Q: So you'll agree with me that when you -- you agree with me that when       you met with Ramon Davila on April 3rd, 2006, its First Silver's       option, not Hector Davila Santos personally; correct? We've already       talked about that?    A: Okay. Yes, sir".--  "Turning to Mr. Neumeyer, up to the time of the closing of the share    purchase agreement, he did not believe or assume that Bolanos was not    First Silver's opportunity. His suspicions were raised and he intended    to investigate the matter further. And if he did mistakenly believe that    the opportunity was Mr. (Hector) Davila's personally, this arose in    whole or in part from Mr. (Hector) Davila having misrepresented that    this was so. It cannot be the case that a defendant can raise an    equitable defence based on his own misconduct".--  "Further, the conclusion I reach from all of the evidence is that Mr.    (Hector) Davila deliberately took advantage of the sale of his shares to    obfuscate the dealings for Bolanos. He did this so that if First    Majestic did not buy his tailings, he could then acquire Bolanos for    himself under cover of the fog that inevitably occurs in a major    corporate transition".--  "I assessed the loss of First Silver at $105.4 million... Applying the    15% contingency to that results in a compensation figure of US$89.6    million".