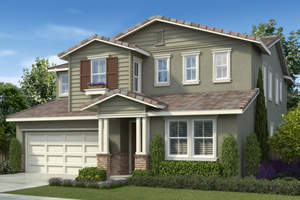 This week's Featured Homes offers stunning amenities and growing room for the entire family.



PITTSBURG, CA -- (Marketwired) -- 04/26/13 -- Homebuyers who are looking for an incredible new home value are encouraged to visit William Lyon Homes' Vineyard at Vista del Mar, where the neighborhood's Featured Home showcases an upgraded Tuscany Residence, Lot #113 that is priced at $487,620. An elegant single-family design filled with stunning amenities from top to bottom and plenty of growing room, Vineyard's Featured Home is a must-see for buyers, including local renters eager to make the leap to homeownership in a location that offers a stress-free work commute. For more details, visit the Sales Gallery or log on to lyonhomes.com/vineyard.

"The 2,810 square-foot Tuscany Residence we are currently spotlighting offers beautiful amenities that enhance its value and visual appeal, while presenting a great opportunity for buyers who appreciate fine detailing," said Lesley Pennington, Vice President of Sales for William Lyon Homes. "Interior features include Juperana St. Cecilia granite kitchen countertops, a GE stainless steel appliance package, E-Stone countertops and surrounds in all of the bathrooms. Valuable upgrades include a GE stainless steel side-by-side refrigerator and a Dual Zone Thermostat System. With five bedrooms and three bathrooms, every family member will have the privacy they want, while an expansive kitchen, dining and great room configuration is perfect for daily gatherings and casual entertaining. The new owners of Vineyard's Featured Home will also enjoy the convenience of a professionally landscaped front yard and a 6,146 square foot lot."

The benefits of all new home construction, prices from the high $400,000s and a desirable Pittsburg setting near BART has made Vineyard an instant favorite, especially among first-time buyers who are ready to enjoy the rewards of homeownership and a commuter-friendly location that suits their busy lifestyles.

Vineyard homeshoppers who are interested in The Sonoma, the neighborhood's only single-level design, should contact the sales team to schedule a weekend tour of this popular floorplan, which is not featured as a model. Brokers are also encouraged to inquire about the neighborhood's $10,000* referral fee.

Vineyard's one- and two-story home designs range from approximately 2,337 to 2,810 square feet, with up to five bedrooms, three bathrooms, two-car garages, great rooms and front porches (per plan) that highlight the neighborhood's architectural charm. Homeowners also enjoy the benefit of state-of-the-art amenities and long-term builder warranties.