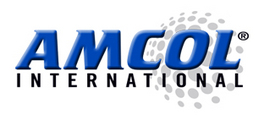 HOFFMAN ESTATES, IL -- (Marketwired) -- 04/26/13 -- For the first quarter of 2013, AMCOL International Corporation (NYSE: ACO) generated diluted earnings attributable to its shareholders from continuing operations of $0.32 per share versus $0.41 per share in the prior year's quarter. The 2013 quarter includes $0.08 per share of reorganization expenses and $0.02 per share of increased expenses associated with amending certain SEC filings.

Net sales increased $1.2 million to $236.7 million in the 2013 first quarter, and gross profit decreased $1.6 million to $63.1 million. Gross profit margin decreased 80 basis points to 26.7%. Operating profit decreased 23.8% to $16.3 million, and operating profit margin decreased 220 basis points to 6.9%. SG&A expenses increased $3.5 million to $46.8 million and include $2.2 million of reorganization expenses, largely in our construction technologies segment, and $1.0 million of increased expenses in our corporate segment related to amending certain SEC filings.

Other, net is comprised of expenses which decreased by $1.4 million as the prior year period includes $1.8 million of losses on certain non-operating assets. Our effective tax rate for the 2013 first quarter was 27.5% compared to 26.5% in the prior year period.

"We continued to see solid results from energy services which were offset by continued softness in several end markets in our performance materials and construction technologies segments," said AMCOL President and CEO Ryan McKendrick.

"Sales and gross margin declined in performance materials as compared to Q1 2012. Lower sales of drilling fluids were the primary driver for the decline, but we are now seeing a gradual increase in demand developing. The decline in specialty materials sales reflects the discontinuation of our paper related products as well as lower demand in fabric care and industrial products. While we had some softness in pet products, we have secured additional volume for this product line which should improve performance starting in Q2," McKendrick continued.

"Our construction technologies segment's sales declined primarily as a result of lower sales for our lining technologies products both domestically and in Europe. Gross margin for the segment continued to exceed 30% due to our actions to reduce manufacturing costs. SG&A for the segment included $1.7 million of non-recurring expenses associated with closing or reorganizing several European office locations. These actions will continue into the second quarter. The outlook for the lining technologies business is improving in the near term as we have secured new orders for our products that contain recently developed, proprietary technology," McKendrick added.

McKendrick continued, "Our energy services segment achieved record revenue for the quarter. The majority of the revenue increase was driven by domestic business as our three largest domestic service areas -- coil tubing, well testing, and water treatment -- all showed nice increases. We also experienced strong growth in our domestic nitrogen business. Globally, our specialized water treatment technology contributed the largest share of the growth. International locations continue to perform in line with our expectations."