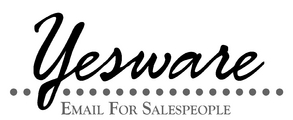 BOSTON, MA -- (Marketwired) -- 04/25/13 -- Today Yesware (www.yesware.com/) a Gmail application that lets sales professionals track emails, save templates, and sync emails with CRMs, is announcing its 200,000th user, as well as two new features that help sales professionals close more deals. The two features, Yesware Reminders and Yesware Calendar Sync, increase salespeople's productivity with easily set follow-up times and coordinated Google Calendar and Salesforce.com.

Yesware Reminders: Since Yesware's debut, the service has helped salespeople track what is happening with their leads. If customers or prospects open an email, Yesware tells salespeople when, where, and on what platform they are engaging with the message. Yesware's new Reminders feature also tells them when something didn't happen. When a key contact doesn't respond by the date that was set, Yesware will prompt them with a simple, timely alert to take action. Knowing when salespeople need to follow up has never been easier.

Yesware Calendar Sync: Millions of salespeople around the world rely on two platforms: Google Calendar to manage their days and Salesforce.com to coordinate with their teams. Yesware now connects these two key tools with a reliable, real-time interface. Salespeople can book a meeting with a client in Google Calendar and it will appear instantly in Salesforce.com. When a sales representative's business development representative schedules a key lunch, Yesware immediately updates Google Calendar. If salespeople book meetings from a phone, Yesware tells both systems.

"Yesware's integration between Gmail, Google Calendar, and Salesforce has enabled us to increase the productivity of our sales team and engage in a more effective means of communication with merchant partners," said Sanober Mukadam, Senior Manager of Sales Strategy & Operations at Groupon, Inc.

With the launch of these new features, Yesware has further improved the methods in which salespeople can measure and track the sales process. Reminders mean salespeople no longer have to worry about losing track of prospects they want to re-contact, Calendar Sync means salespeople save time because they now need to update only one calendar and events are synced automatically to Salesforce.com.

About Yesware
More than 200,000 salespeople rely on Yesware to help them close more business. Integrated into Gmail, Yesware provides email tracking and analytics, customizable sales templates, CRM integration, and more to help salespeople communicate with customers more effectively. Investors in Yesware include Google Ventures, Foundry Group, Golden Venture Partners, and IDG Ventures. To learn more about how Yesware helps sales-focused companies such as Groupon, Gooddata, Adroll, Hubspot, and others, please visit our website, www.yesware.com.