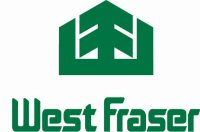 VANCOUVER, BRITISH COLUMBIA -- (Marketwired) -- 04/25/13 -- West Fraser Timber Co. Ltd. ("WFT") (TSX: WFT) today reported earnings of $67 million or $1.57 per share on sales of $863 million in the first quarter of 2013. These results compare with previous periods as follows:


----------------------------------------------------------------------------($ millions except earnings per share ("EPS"))       Q1-13    Q4-12    Q1-12----------------------------------------------------------------------------Sales                                                  863      773      681EBITDA(1)                                              141       75       17Operating earnings                                     101       36     (23)Earnings (loss)                                         67       20     (19)Basic EPS ($)                                         1.57     0.46   (0.45)Adjusted earnings (loss)(2)                            103       51     (13)Adjusted basic EPS ($)(2)                             2.42     1.19   (0.32)----------------------------------------------------------------------------(1) In this News Release, reference is made to EBITDA (defined as operating    earnings plus amortization). Our management believes that, in addition    to earnings, EBITDA is a useful performance indicator and is a useful    measure of cash available prior to debt service, capital expenditures    and income taxes. Reference is also made to Adjusted earnings (loss)    (calculated as set out in the tables described in footnote 2) and    Adjusted basic EPS (collectively, with EBITDA, "these measures"). None    of these measures is a generally accepted earnings measure under    International Financial Reporting Standards ("IFRS") and none have a    standardized meaning prescribed by IFRS. Investors are cautioned that    these measures should not be considered as an alternative to earnings,    earnings per share or cash flow, as determined in accordance with IFRS.    As there is no standardized method of calculating any of these measures,    our method of calculating each of them may differ from the methods used    by other entities and, accordingly, our use of any of these measures may    not be directly comparable to similarly titled measures used by other    entities.(2) Refer to the table titled "Earnings Adjustments for Certain Non-    Operational Items" in Management's Discussion and Analysis of our first    quarter 2013 results for details of these adjustments.
Operational Results
In the quarter our lumber operations generated operating earnings of $122 million and EBITDA of $146 million. The improvement over the prior quarter reflects improved prices for SPF and SYP lumber.
The panel segment, which includes plywood, LVL and MDF, generated $14 million of operating earnings and EBITDA of $18 million in the quarter, reflecting higher plywood prices.
Pulp and paper operations generated an operating loss of $4 million in the quarter and EBITDA of $8 million. The decline from the prior quarter occurred despite the increase in pulp prices as the results were adversely affected by production issues at our NBSK mills.