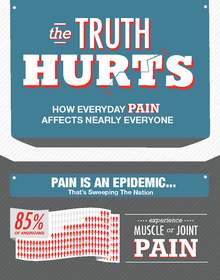 New study uncovers the truth about muscle and joint pain in America. Find out who's in pain, where and how they deal with it in a new infographic: The Truth Hurts



STERLING, IL -- (Marketwired) -- 04/25/13 -- Americans are hurting, and this time it's not because of the economy. A new online study conducted by Harris Interactive and commissioned by Wahl Clipper Corporation reveals the vast majority of American adults experience muscle and joint pain -- and in more than one place. The study uncovers how people deal with their pain and how far they would go to eliminate it. The highlights can be found in a new infographic: The Truth Hurts.

"Pain is a growing issue that affects people of all ages," said Jenny McLaughlin, product manager for Wahl, the company that invented the electric massager. "As a leading manufacturer of pain management tools, we're committed to helping people better manage their everyday aches and pains. It starts with understanding the issue."

In February 2013, a representative sample of more than 2,000 men and women nationwide were asked to share their pain -- specifically, where it hurts, how often, how much and how they deal with it. The results suggest that if pain were a disease, it would be an epidemic.

Where it hurts

More than eight in 10 Americans experience muscle or joint pain over the past 12 months, and 75 percent experience it in three or more places. While numbers show the most common pain points are lower back, shoulders/neck and joints, to call them common is an understatement.

Not only do nearly seven in 10 people report pain in these areas, but of those who do, about half experience it at least once a month. The highest percentage faces this pain on a daily basis.

The breakdown of where people experience pain:

•78 percent experience back pain •74 percent experience neck/shoulder pain •68 percent experience joint pain •65 percent experience leg pain •60 percent experience foot pain •57 percent experience arm pain

Who's in pain

Geographically speaking, pain is consistent. The Midwest and South have the highest incidence of pain at 87 percent, but the Northeast and West are not far behind, 84 percent and 83 percent, respectively. In the battle of the sexes, pain is an equal opportunity employer. Women experience it more, but by a slim margin, 87 percent to 84 percent.

Marriage might be bliss, but it can come at a painful price. Those who tie the knot experience about 10 percent more pain than single/never married people.