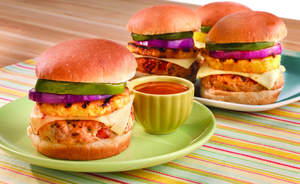 Hawaiian Turkey Burger


MISSION, KS -- (Marketwired) -- 04/25/13 -- (Family Features) Nice weather means it's time to fire up the grill. To enjoy dining al fresco any time, make your kitchen grill-ready with essentials for your pantry, fridge and freezer.

Stock up now on fresh meats and produce, as well as cool drinks and frozen treats to keep you outside and grilling all season long. The best part? Your backyard barbecue doesn't have to be expensive. For inspiration, try these grilling favorites from food stylist and loyal ALDI shopper Janice Stahl, who saves up to 50 percent by shopping at ALDI:

•Create a sophisticated summer dinner in no time by placing raw salmon, fresh lemon slices and a mix of chopped tomatoes, garlic, basil and red onion on a piece of aluminum foil; seal it to create a packet and throw it on the grill. •Use a teriyaki marinade to add a kick to your chicken breasts and step up your grilling game with bacon-wrapped beef filets or marinated pork loin. •Put a spin on the classic burger with Alaskan salmon or ground turkey patties.

With these simple tips and recipes, you'll be ready to show off your grilling expertise at any time. Visit www.aldi.us for more ideas.



Hawaiian Turkey Burger$1.86 per serving at ALDI.Recipe courtesy of Chef Alyssa, ALDI Test KitchenPrep time: 15 minutesCook time: 15 minutesMakes 4 burgers1 egg1 pound ground turkey or ground chicken1/4 cup old fashioned oats1 tablespoon crushed red pepper2 tablespoons parsley flakes1 teaspoon salt1 teaspoon pepper1 clove of garlic, minced1/2 cup red pepper, minced1/4 cup mayonnaise1/4 cup BBQ sauce1 tablespoon vegetable oil1 pineapple, peeled, cored and cut into 1/2-inch rings1 red onion, peeled and cut into 1/2-inch rings1 green pepper, cored and cut into 1/2-inch rings4 hamburger buns4 slices pepper Jack sliced cheese
Beat egg in a bowl. Add ground turkey or chicken, oats, crushed red pepper, parsley, salt, pepper, minced garlic and minced red pepper.
Mix together until incorporated. Divide into 4 even patties, flatten and let sit in the fridge for 5 minutes.
Mix together mayonnaise and BBQ sauce. Set aside.
Heat grill to medium/high temperature. Place patties on the grill and cook for 5 to 7 minutes each side until desired doneness.
Brush oil on slices of pineapple, onion and green pepper, then grill 2 to 3 minutes on each side.
Lightly grill the bun and set aside. Spread both sides of the bun with the mayonnaise BBQ sauce.
When burger is almost finished cooking, place 1 slice of cheese on each patty and continue to grill until melted.
To assemble the burger, layer the bottom of the bun with the patty with cheese, pineapple, onion, green pepper and top half of bun.
Grilled Avocados with Vegetable Relish$1.16 per serving at ALDI.Recipe courtesy of Chef Kates, ALDI Test KitchenPrep time: 20 minutesCook time: 10 minutesServes: 81 lemon, juiced (about 2 tablespoons)1/4 cup extra virgin olive oil, divided1/2 teaspoon iodized salt, divided1/2 teaspoon ground black pepper, divided4 avocados2 Roma tomatoes, halved and seeded1/2 red bell pepper, halved and seeded1/2 green bell pepper, halved and seeded1/2 yellow onion, peeled and quartered Crushed red pepper, to taste1/3 cup feta cheese crumbles
Preheat grill or grill pan on medium-high.
In small bowl, combine lemon juice, 2 tablespoons olive oil, 1/4 teaspoon salt and 1/4 teaspoon pepper. Slice avocados in half, and remove pits, leaving skin intact. Brush lemon juice mixture onto flesh and skin side of each avocado, to prevent sticking on grill. In small bowl, toss tomatoes, bell peppers and onions with 1/4 teaspoon salt, 1/4 teaspoon pepper and remaining 2 tablespoons olive oil. Grill avocados flesh side down, 1 to 2 minutes until dark grill marks form. Flip and continue cooking for 1 to 2 minutes more. Grill remaining vegetables for 3 to 4 minutes on each side, or until charred and tender. Place avocado halves on serving plate. Transfer remaining vegetables to food processor. Add crushed red pepper. Pulse gently to form chunky relish. Top each avocado half with vegetable relish, sprinkle with feta cheese. Drizzle with remaining lemon juice mixture.
Italian Summer Kabobs$1.50 per serving at ALDI.Recipe Courtesy of Chef Stacey, ALDI Test KitchenPrep time: 25 minutesCook time: 5 minutesServes: 202 onions, cut into eighths1/4 cup Italian dressing14 ounces Italian with sundried tomato sausages, cut into 1" sections8 ounces fresh mozzarella, diced into 20 pieces20 large toothpicks or small skewers
Marinate onion petals in dressing for 20 minutes. Skewer 2 onion petals and a sausage onto toothpick. Grill until sausage reaches 165 degrees (approximately 5 minutes). Add a chunk of mozzarella to each skewer; serve.
Grilling on a Stick
Switch up the usual cookout by hosting a summer kabob party. Food stylist Janice Stahl shops at ALDI to put together an affordable spread that includes spearing cherry tomatoes, fresh mozzarella and red onion drizzled with balsamic vinegar as an appetizer and chicken or sausage, bell pepper, zucchini and mushrooms for a main course. Even dessert comes on a stick with blueberries, marshmallows, fresh strawberries and a chocolate sauce for dipping.
About Family Features Editorial Syndicate

This and other food and lifestyle content can be found at
www.editors.familyfeatures.com
. Family Features is a leading provider of free food and lifestyle content for use in print and online publications. Register with no obligation to access a variety of formatted and unformatted features, accompanying photos, and automatically updating Web content solutions.
Image Available:
http://www2.marketwire.com/mw/frame_mw?attachid=2292426
Add to Digg
Bookmark with del.icio.us
Add to Newsvine


Michael French
mfrench@familyfeatures.com
1-888-824-3337
http://editors.familyfeatures.com