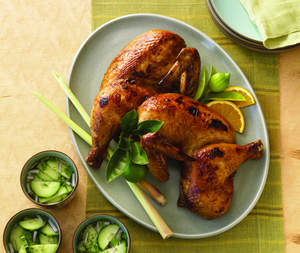 Savory Chicken Brine


MISSION, KS -- (Marketwired) -- 04/25/13 -- (Family Features) The best meals offer loads of fresh flavor and are best served with a side of originality. Let your pantry serve as your starting point for creating memorable meals the family will love.

Proper Pantry Practices
Before letting those creative culinary juices flow, take inventory of your pantry. If you find items that are too old, that have never been touched, or that you hardly ever use -- get rid of them.

Look closely at the ingredient list to decide which items to keep. Get rid of items filled with corn syrup and artificial sweeteners and colors. Foods with fewer ingredients and pronounceable words tend to be more natural or "whole." Made from four ingredients, Kikkoman's Soy Sauce is brewed naturally, using a traditional process that goes back hundreds of years. Other "keepers" include honey, canned beans, whole grain pastas or rice, raw nuts and olive oil.

Once your pantry is in order, you can incorporate these healthy staples into meals using the freshest vegetables, poultry, fish and beef. By keeping your pantry stocked with the most wholesome ingredients, you can be sure you are giving the very best to your family.

For additional recipes and information, visit www.kikkomanUSA.com.



Savory Chicken BrineServings: 6 1 chicken (5 to 6 pounds) 1 gallon cold water 1 tablespoon dried sage 1 tablespoon dried celery seed 1/2 tablespoon dried thyme 3/4 cup kosher salt 3/4 cup sugar 3/4 cup Kikkoman Soy Sauce 2 tablespoons of seasoned salt
Remove giblets from chicken cavity, rinse chicken inside and out. In large stock pot or container, mix water, sage, celery seed, thyme, salt, sugar and soy sauce to create brine. Stir well until sugar and salt are dissolved. Place chicken in brine, cover and refrigerate at least 4 hours or overnight.
Preheat oven to 400 degrees F. Remove chicken from brine and rinse well inside and out. Sprinkle with 2 tablespoons of seasoned salt. Bake chicken at 400 degrees F for 45 minutes.
Brining 101
What exactly is brining? Much like a marinade, meat and poultry is soaked in flavorful liquid, such as an all-purpose seasoning like Kikkoman Soy Sauce. This adds a tremendous amount of flavor and also breaks down proteins, thus, tenderizing the meat or poultry.
The only real rule to brining is that the meat must be kept cold throughout the entire process. Use a large container, cooler or brining bag that can fit into a refrigerator because the protein and brine solution has to be kept below 40 degrees at all times.
Spaghetti and MeatballsServings: 8 1 pound spaghetti 1 1/4 pounds ground beef 2 eggs, beaten 1 cup Kikkoman Panko Bread Crumbs 1 tablespoon Kikkoman Soy Sauce 1 cup Parmesan cheese, grated and divided 4 cloves garlic, minced and divided 2 tablespoons vegetable oil 1 small onion, finely diced 2 28-ounce cans crushed tomatoes 1 tablespoon dried oregano
Cook spaghetti according to package directions, rinse and drain.
Combine ground beef, eggs, panko, soy sauce, 1/2 cup Parmesan cheese and 2 cloves of garlic in large bowl; shape into 1 1/2-inch sized meatballs. Bake meatballs at 350 degrees F on ungreased cookie sheet for 10 to 12 minutes. Meanwhile, heat deep skillet, add oil, 1 clove garlic and onions and sauté for about 5 minutes until onions are soft. Add tomatoes and remaining garlic, cheese and oregano; simmer for at least 20 minutes.
Greek Pasta SaladServings: 6Sun-Dried Tomato Salad Dressing: 3/4 cup sun-dried tomatoes, drained or rehydrate if dry 2/3 cup olive oil 1/4 cup fresh basil, chopped 2 tablespoons capers 3 cloves garlic 3 tablespoons Kikkoman Rice VinegarSalad: 1/4 cup Kikkoman Thai Style Chili Sauce 4 cups rotini pasta, cooked 1/2 cup cucumber, peeled and seeded 1 cup cherry tomatoes 1 cup green bell pepper strips 1 4-ounce package feta cheese, crumbled 1 3.8-ounce can black olives, sliced and drained 3/4 cup chopped green onions 1/2 tablespoon chopped dill weed
For dressing, whisk together sun-dried tomatoes, olive oil, basil, capers, garlic and rice vinegar. Set aside.
For salad, whisk together 1 cup salad dressing and chili sauce, set aside. In large bowl, combine pasta and remaining ingredients, tossing to combine. Serve with salad dressing.
Classic Fried RiceServings: 6 6 strips bacon, cut into 1/2-inch pieces 1 egg, beaten 8 green onions and tops, sliced 4 cups cold, cooked rice 1 tablespoon garlic, minced 3 tablespoons Kikkoman Soy Sauce
Cook bacon in large skillet over medium heat until crisp. Move bacon to side of pan; add egg and scramble. Move egg over and add green onions to the skillet; sauté for a minute. Stir in rice, add garlic and soy sauce. Toss until mixture is well blended and heated through.
About Family Features Editorial Syndicate

This and other food and lifestyle content can be found at
www.editors.familyfeatures.com
. Family Features is a leading provider of free food and lifestyle content for use in print and online publications. Register with no obligation to access a variety of formatted and unformatted features, accompanying photos, and automatically updating Web content solutions.
Image Available:
http://www2.marketwire.com/mw/frame_mw?attachid=2292459
Add to Digg
Bookmark with del.icio.us
Add to Newsvine


Michael French
mfrench@familyfeatures.com
1-888-824-3337
http://editors.familyfeatures.com