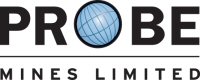 TORONTO, ONTARIO -- (Marketwired) -- 04/25/13 -- Editors Note: There is an image associated with this press release.

Probe Mines Limited (TSX VENTURE: PRB) ("Probe" or the "Company") is pleased to provide a progress update for its metallurgical program on the Borden Gold project. The results of this phase of work allow a better understanding of the metallurgical recoveries in regard to the recovery sensitivity to grind and head grade. Three (3) new composites were created with average head grades of 0.32 g/t Au, 1.09 g/t Au and 1.25 g/t Au, and metallurgical response of these composites to gravity, flotation and leaching tests were determined. These results were combined with the results obtained from the initial metallurgical testwork (see news release dated November 28, 2011) and the overall combined results were evaluated to produce a metallurgical recovery curve. Figure 1 below shows the overall recovery curve. This head grade recovery curve should result in improved cut-off grade determination and conversion of the mineral inventory into resources.

The recent metallurgical testing indicates that the samples tested were amenable to conventional processing and are not classified as refractory. Gold recovery and processing units of operations are in line with industry standards and a proposed flow sheet would include: crushing and grinding; gravity recovery; flotation; cyanide leaching with gold recovery via a carbon-in-leach circuit; and production of onsite gold dore. Metallurgical testwork is continuing and final results will be released upon completion.

Ongoing work includes metallurgical testing of four PQ and four HQ holes drilled during the winter of 2012, which provide the samples necessary for the comminution testing and the continuation of the metallurgical testwork program. The comminution test program includes: Drop-Weight Test (DWT), SAG Mill Comminution Test (SMC), Bond Ball Mill Work Index (BWi), Rod Mill Work Index (RWi), Abrasion Index (Ai), Unconfined Compression Test (UCS) and Low Energy Impact Test. Also, additional metallurgical tests will be executed to define the recovery from gravity, flotation and leach from different geo-domain composites. Those results will provide the input data to perform a series of trade-off studies to further improve the process design criteria and project economics.

Mr. Michael Petrina, COO of Probe, states: "The metallurgical test program is continuing to improve overall recoveries of gold for the Borden Gold deposit, particularly at lower grades, and is working toward optimizing a metallurgical flowsheet. As the work advances we expect to see further improvements and refinements in both the recoveries and the potential processing circuit. We are very pleased with the progress being made on the Borden Gold Project, which has continued to exceed our expectations in all aspects of the technical programs."

The metallurgical testing was carried out under the supervision of BBA Inc. and was conducted by SGS Mineral Services (Vancouver) and Process Research Ortech Inc. (Mississauga). The contents of the above have been approved by Qualified Person Mr. Jacques McMullen, P.Eng of BBA Inc., independent consultants to Probe.