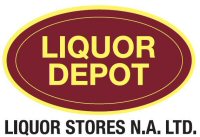 EDMONTON, ALBERTA -- (Marketwired) -- 04/25/13 -- Liquor Stores N.A. Ltd. ("Liquor Stores") (TSX: LIQ) will conduct a conference call on May 7, 2013, following its previously released financial results, for the first quarter ended March 31, 2013. The details of the conference call are as follows:


Date: Tuesday, May 7, 2013Time: 11:00 a.m. MSTParticipants: Stephen Bebis, President and CEO Pat de Grace, Senior Vice President and CFO Scott Morrow, COO Craig Corbett, Senior Vice President Business Development and Legal CounselLocal Access Number: 416-340-2219Toll-Free Access: 1-866-226-1798
An archived recording of the conference call will be available approximately one hour after the completion of the call until May 15, 2013, by dialling: 905-694-9451 or Toll-Free Access: 1-800-408-3053. The required Passcode is: 6751954.
About Liquor Stores N.A. Ltd.
Liquor Stores N.A. Ltd. is a publicly traded corporation that indirectly operates 246 retail liquor stores in Alberta, British Columbia, Alaska, and Kentucky. Liquor Stores N.A. Ltd. trades on the Toronto Stock Exchange under the symbol LIQ. For additional information about Liquor Stores N.A. Ltd., visit
www.sedar.com
and the Company's website at
www.liquorstoresna.ca
.


Contacts:
Liquor Stores N.A. Ltd.
Patrick de Grace
Senior Vice President & Chief Financial Officer
(780) 917-4179