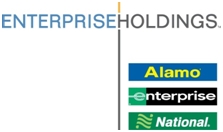 ST. LOUIS, MO -- (Marketwired) -- 04/25/13 -- Enterprise Holdings and the Arbor Day Foundation have kicked off year eight of Enterprise's 50 Million Tree Pledge by paying tribute to the heroes of Sept. 11 with a living legacy of trees. Enterprise employees joined The National Park Foundation, several other event sponsors and nearly 600 volunteers at the "Plant a Tree at Flight 93" events on April 19 and 20 in Shanksville, Pa.

The Enterprise Holdings Foundation is funding the planting of 30,000 trees this year to help reforest 23 acres of land in the new 2,200-acre national memorial dedicated to the victims of Flight 93. The Flight 93 National Memorial in Shanksville is a permanent, living tribute that includes 40 groves of trees to commemorate the 40 men and women who lost their lives there on Sept. 11, 2001.

"It is a privilege for us to plant these trees to honor the Flight 93 passengers and crew," said Lee Broughton, head of sustainability for Enterprise. Through a public-private partnership with the Arbor Day Foundation and the United States Forest Service, the Enterprise Holdings Foundation established the 50 Million Tree Pledge in 2006 to thank customers for their support throughout the company's first 50 years. Its $50-million commitment calls for planting 50 million trees in state and national forests as well as state parks throughout the U.S., Canada and Europe.

Cumulatively, Enterprise will have planted 8 million trees by the end of 2013, including the Flight 93 memorial as part of this year's plantings. With 1 million trees planted annually, Enterprise's reforestation efforts are equivalent to planting a new Central Park every 10 days for 50 years.

Restoring Forests

"Investing for the long term is a priority for Enterprise - whether that investment is in serving our customers, developing our employees or giving back to the world we all share," said Broughton. "We are always looking for more sustainable ways to do business and support the communities we serve. By planting these trees, we are restoring and rejuvenating natural spaces that people can enjoy for generations to come."

Each year, Enterprise works with the Arbor Day Foundation and the U.S. Forest Service, as well as with the National Association of State Foresters and the National Association of State Park Directors, to identify and execute planting projects that will address the greatest and most immediate reforestation needs.