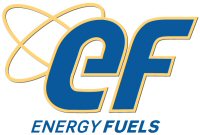 TORONTO, ONTARIO -- (Marketwired) -- 04/25/13 -- Energy Fuels Inc. (TSX: EFR) ("Energy Fuels" or the "Company") is pleased to announce that today the Colorado Department of Public Health and Environment ("CDPHE") re-issued the final Radioactive Materials License (the "License") for the Company's proposed Pinon Ridge Mill (the "Mill"). When built, the Pinon Ridge Mill would be the first new uranium mill in the United States constructed in over 30 years. Energy Fuels also owns and operates the White Mesa Mill near Blanding, Utah, which is the only operating uranium mill in the United States.

As was previously announced, CDPHE first issued Energy Fuels a radioactive materials license for the Pinon Ridge Mill in March 2011. Soon thereafter, a non-government organization filed suit against the State of Colorado seeking to nullify this license. In June 2012, Denver District Court Judge John N. McMullen issued a decision upholding the previously issued license decision on 10 of the 11 substantive environmental, health and safety claims. However, the license was set aside pending the completion of an administrative hearing that would offer the public the opportunity to provide further comment and information on the proposed mill and allow parties to the hearing the opportunity to initiate discovery and to cross-examine witnesses. In August and September 2012, the Town of Telluride, the Town of Ophir and San Miguel County, Colorado and several non-government organizations were granted party status in the administrative hearing.

In October 2012, Energy Fuels entered into an agreement with the Town of Telluride and San Miguel County, Colorado on various issues including environmental protection, transportation, and financial assurance. As a part of this agreement, Energy Fuels agreed to maintain a minimum of $15 million of financial assurance with the State of Colorado upon Mill commissioning. Based on that agreement, the Town of Telluride and San Miguel County agreed not to further oppose Energy Fuels' license application.

The administrative hearing took place over the course of six days in November 2012 in Nucla, Colorado and offered the public an extensive opportunity to offer comment on the Mill and for the parties to question CDPHE's Radiation Program staff and Energy Fuels' environmental staff and consultants. In January 2013, the hearing officer issued a decision finding that the administrative hearing fully satisfied the requirements of Colorado law. The non-government organizations appealed this finding to the Executive Director of CDPHE, Dr. Chris Urbina, in January 2013. In February 2013, Dr. Urbina upheld the hearing officer's decision, clearing the way for today's License re-issuance.

The License includes conditions that specify additional requirements that Energy Fuels will be required to meet prior to the beginning of Mill construction, before the start of operations, during Mill operations, and during Mill decommissioning (as applicable). These conditions include requirements for submittal of detailed designs and plans, monitoring and testing, training, reporting, and financial assurance.