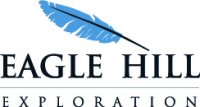 VANCOUVER, BRITISH COLUMBIA -- (Marketwired) -- 04/25/13 -- Eagle Hill Exploration Corporation (TSX VENTURE: EAG) ("Eagle Hill" or the "Company") is pleased to announce final assay results from its 2012 drill program at the Windfall Lake Gold Deposit in Northwestern Quebec. The new results include wide intercepts of high grade gold mineralization occurring near surface as a series of parallel lenses. This drilling confirms the continuity and consistency of the gold mineralization in the upper Extension of Zone 27. The drilling was completed with a spacing of 15 to 30 meters between drill holes on sections separated by 25 meters. These results are part of a 22,600 meter drill program designed to expand the size of the mineral resource estimate released on July 25, 2012 that already includes 1,665,000 tonnes at 10.05 g/t gold (538,000 ounces) in the indicated category and 2,906,000 tonnes at 8.76 g/t gold (822,000 ounces) in the inferred category.

Several shallow diamond drill holes continued to test the gold mineralization in the upper Extension of Zone 27 and were able to better define the geometry of this zone and to confirm its lateral continuity for over 325 meters. The Zone 27 upper extension consists of a gold-rich lens plunging shallowly to the east and extending for more than 50 meters vertically, with widths of up to 31 meters. Some of the new results for this zone include 6.18 g/t Au over 40 meters in drillhole EAG-12-450 and 19.14 g/t Au over 12.2 meters in drillhole EAG-12-454. In addition to their intersections in Zone 27, several of the shallow drill holes returned other significant intersections from parallel mineralized lenses in the first one hundred meters below the surface. The best results for the additional lenses include 5.46 g/t Au over 14.3 meters and 9.66 g/t Au over 5.3 meters as listed in the table below.

Eagle Hill has recently completed an additional 4,100 meter drill program that started at the beginning of February 2013. This drill program targeted the extensions of the richest and thickest gold mineralization of Zone 27 and the Caribou Zone at intermediate depth. The results of this drilling will be announced upon receipt of the assays and management will provide a corporate update in the near future.

The longitudinal section showing the extension of Zone 27 upper extension has been posted on Eagle Hill's website, www.eaglehillexploration.com/sections.

The table shows the most significant assay results from the series of drill holes discussed in this press release.


----------------------------------------------------------------------------               From     To     Au LengthDrill Hole      (m)    (m)  (g/t)    (m) Comment----------------------------------------------------------------------------EAG-12-450     27.0   27.5   21.7    0.5 Isolated intercept----------------------------------------------------------------------------EAG-12-450     58.0   98.0   6.18   40.0 Zone 27 Upper Extension-----------------------------------------  incl.        59.5   61.1   4.76    1.6-----------------------------------------  incl.        73.6   80.2  31.70    6.6-----------------------------------------  incl.        79.5   80.2 129.50    0.7----------------------------------------------------------------------------EAG-12-451     54.8   60.1   9.66    5.3 Zone parallel to Zone 27 upper Ext.-----------------------------------------  incl.        55.7   57.0  32.63    1.3----------------------------------------------------------------------------EAG-12-451    122.0  143.0   3.37   21.0 Zone 27 south of the fault-----------------------------------------  incl.       124.0  125.0  14.25    1.0-----------------------------------------  incl.       129.0  130.2  10.55    1.2----------------------------------------------------------------------------EAG-12-453     58.0   64.9   7.44    6.9 Zone 27 Upper Extension-----------------------------------------  incl.        59.9   61.0  16.70    1.1----------------------------------------------------------------------------EAG-12-454     62.8   75.0  19.14   12.2 Zone 27 Upper Extension-----------------------------------------  incl.        65.0   66.0  32.20    1.0-----------------------------------------  incl.        68.0   69.0  57.10    1.0-----------------------------------------  incl.        69.0   69.8  59.10    0.8-----------------------------------------  incl.        69.8   70.2 116.50    0.4----------------------------------------------------------------------------EAG-12-454     98.0  103.0   3.49    5.0 Zone parallel to Zone 27 upper Ext.----------------------------------------------------------------------------EAG-12-455     76.8   80.5   7.99    3.7 Zone 27 Upper Extension-----------------------------------------  incl.        76.8   78.0  12.85    1.2----------------------------------------------------------------------------EAG-12-456     32.0   33.4  31.80    1.4 Isolated intercept----------------------------------------------------------------------------EAG-12-456     61.0   65.0   5.26    4.0 Zone parallel to Zone 27 upper Ext.----------------------------------------------------------------------------EAG-12-456     71.0   76.2   4.77    5.2 Zone 27 Upper Extension----------------------------------------------------------------------------EAG-12-457     73.0   74.0   6.12    1.0 Isolated intercept----------------------------------------------------------------------------EAG-12-457    103.0  132.0   1.91   25.0 Zone 27 Upper Extension-----------------------------------------  incl.       123.1  124.0   9.58    0.9----------------------------------------------------------------------------EAG-12-458     73.5   74.1  18.00    0.6 Isolated intercept----------------------------------------------------------------------------EAG-12-459     45.7   60.0   5.46   14.3 Zone parallel to Zone 27 upper Ext.-----------------------------------------  incl.        47.0   48.0  17.30    1.0-----------------------------------------  incl.        48.0   49.0  32.90    1.0----------------------------------------------------------------------------EAG-12-459    102.8  104.0  21.70    1.2 Isolated intercept----------------------------------------------------------------------------EAG-12-459    131.2  138.0   2.01    6.8 Zone 27 Upper Extension----------------------------------------------------------------------------