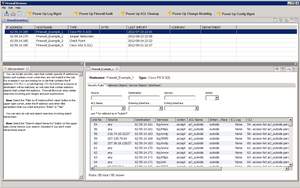 SolarWinds Firewall Browser enables IT professionals to easily troubleshoot firewalls and manage change requests from the convenience of the desktop.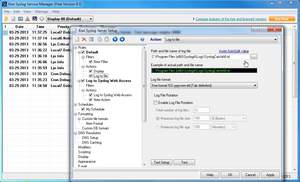 The free Kiwi Syslog Server allows users to watch up to five different routers, computers, or network devices and display logs, write logs to a disk either in one large file or classified by day and priority, and receive real-time statistic summary via a desktop viewer.



AUSTIN, TX -- (Marketwired) -- 04/24/13 -- SolarWinds (NYSE: SWI), proveedor líder de software de gestión de TI potente y asequible, anunció hoy el lanzamiento de la nueva herramienta gratuita Firewall Browser de SolarWinds y la disponibilidad de su servidor Kiwi Syslog Server gratuito. Estas soluciones gratuitas son parte de la amplia línea de herramientas y productos gratuitos de SolarWinds enfocados a solucionar los puntos difíciles en la red, sistemas, SIEM, virtualización, almacenamiento y gestión general de TI.

Firewall Browser de SolarWinds le permite a los profesionales de TI revisar y diagnosticar los cortafuegos y manejar solicitudes de cambio desde la conveniencia de su computadora. Esta herramienta gratuita simplifica los desafíos inherentes a las búsquedas con reglas en base a rangos de direcciones o servicio, la forma en la que realmente se hacen las solicitudes de cambio. Firewall Browser de SolarWinds es la única herramienta de búsqueda de configuración de cortafuegos gratuita que acepta búsquedas ilimitadas en un inventario de proveedores mixto desde una interfaz única y conveniente.

Aspectos destacados de la herramienta gratuita Firewall Browser de SolarWinds:

•Importar y buscar configuraciones ilimitadas en Cisco, Check Point y Netscreen •Buscar reglas y objetos en base a dirección IP, nombre, servicio o puerto •Verificar si una solicitud de cambio ya está siendo manejada por las reglas de seguridad •Encontrar las mejores reglas y objetos que se pueden reutilizar para hacer un cambio •Determinar el impacto de un cambio sobre un grupo de objetos

Ampliar significativamente la gestión de cortafuegos de múltiples proveedores, incluyendo la capacidad de análisis, configuración y localización de fallas; los profesionales en IT pueden obtener una prueba gratuita de SolarWinds Firewall Security Manager.