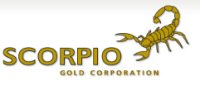 VANCOUVER, BRITISH COLUMBIA -- (Marketwired) -- 04/24/13 -- Scorpio Gold Corporation ("Scorpio Gold" or the "Company") (TSX VENTURE: SGN) is pleased to report on the planned 2013 exploration program at the Mineral Ridge project and future plans for the recently acquired Goldwedge and Pinon projects, all located in Nevada, USA.

The 2013 exploration program at Mineral Ridge is designed to expand the Company's mineral resource inventory; where in its first year of commercial production the Company produced over 32,000 ounces of gold. Initial evaluation and follow-up exploration work is also being considered on the Goldwedge and Pinon projects.

Peter J. Hawley, CEO comments; "Having achieved a successful first year of commercial production at Mineral Ridge, we are excited to turn our attention to the exceptional exploration potential of the area with a comprehensive property-wide program of geochemical sampling, detailed prospecting and mapping, as well as a helicopter-borne electromagnetic and magnetic survey over a key portion of the property. This level of exploration has never been applied at Mineral Ridge, and we are confident it will result in the discovery of new mineralization. Importantly, this exploration program will be funded entirely out of cash flow from the Mineral Ridge operation."

Mineral Ridge Project

The 2013 exploration program will focus on continued resource and reserve expansion of the Mary LC, Drinkwater Highwall and adjacent Brodie and Bluelite satellite deposits, as well as testing of high quality exploration targets. The budgeted US$3.2 million program includes:


--  Detailed digital and GIS (Geographic Information System) compilation of    historical data - completed.--  Acquisition by staking of 1,000 hectares (2,400 acres) of new ground    with gold showings - completed.--  Geochemical sampling and detailed geological and structural mapping    program - underway.--  Over 800 line-kilometers (500 line-miles) of helicopter-borne VTEM    (Vertical Time-Domain Electromagnetic) and magnetic geophysical survey -    underway.--  20,000 meters (66,000 feet) of reverse circulation (RC) drilling    including infill, step out and target specific exploration - underway.
Ore definition and condemnation drilling is currently in progress on the Mary & LC zones for refinement of the proposed super pit. Once completed, the drill will move to the Brodie and Bluelite satellite deposits to further define resources in those areas. Additional definition drilling on the Drinkwater Highwall zone is scheduled for later this year. The exploration drilling phase will test specific targets identified through compilation and interpretation of results from the ongoing ground and airborne surveys.
Goldwedge Project
Scorpio Gold acquired the advanced exploration-stage Goldwedge project in December 2012. Located on the southern periphery of the Manhattan Caldera, about 10 miles south of the prolific Round Mountain Mine, Goldwedge includes a fully permitted underground mine, processing facility with a gravity circuit, and a strategic land package around the historic mining town site of Manhattan, Nevada. Scorpio Gold commenced rehabilitation of the plant and surrounding infrastructure in early 2013 in preparation for potential toll milling contracts.