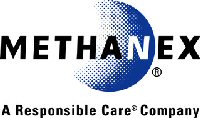 VANCOUVER, BRITISH COLUMBIA -- (Marketwired) -- 04/24/13 -- For the first quarter of 2013, Methanex (TSX: MX)(NASDAQ: MEOH) reported Adjusted EBITDA(1) of $149 million and Adjusted net income(1) of $88 million ($0.92 per share on a diluted basis(1)). This compares with Adjusted EBITDA(1) of $119 million and Adjusted net income(1) of $61 million ($0.64 per share on a diluted basis(1)) for the fourth quarter of 2012.

Methanex also announced that its Board of Directors has approved an 8 percent increase to its quarterly dividend to shareholders, from $0.185 to $0.20 per share. The increased dividend will apply commencing with the dividend payable on June 30, 2013 to holders of common shares on record on June 16, 2013.

John Floren, President and CEO of Methanex commented, "Higher methanol prices in the first quarter contributed to higher Adjusted EBITDA compared to last quarter. Entering the second quarter, methanol demand has continued to be healthy and the pricing environment remains stable. With strong earnings, a positive outlook for the methanol industry and the quality of the expansion plans underway, I am pleased to confirm that our Board of Directors has approved another increase to our regular dividend. This represents the ninth increase since we implemented a dividend in 2002."

Mr. Floren added, "We also announced today that we have made the decision to proceed with the relocation of a second one million tonne plant from our Chile site to Geismar, Louisiana. Our focus in the near term remains the successful execution of both plant relocations and our value-creating growth projects in New Zealand and Medicine Hat. Combined, these projects represent three million tonnes of production capacity that are expected to be completed in increments through early 2016."

Mr. Floren concluded, "With over US$700 million of cash on hand, an undrawn credit facility, a robust balance sheet, and strong cash flow generation, we are well positioned to complete our expansion plans, pursue other strategic growth opportunities and continue to deliver on our commitment to return excess cash to shareholders."

A conference call is scheduled for April 25, 2013 at 12:00 noon ET (9:00 am PT) to review these first quarter results. To access the call, dial the Conferencing operator ten minutes prior to the start of the call at (416) 340-8527, or toll free at (877) 240-9772. A playback version of the conference call will be available until June 24, 2013 (905) 694-9451, or toll free at (800) 408-3053. The passcode for the playback version is 3021008. Presentation slides summarizing Q1-13 results and a simultaneous audio-only webcast of the conference call can be accessed from our website at www.methanex.com. The webcast will be available on the website for four weeks following the call.

Methanex is a Vancouver-based, publicly traded company and is the world's largest supplier of methanol to major international markets. Methanex shares are listed for trading on the Toronto Stock Exchange in Canada under the trading symbol "MX" and on the NASDAQ Global Market in the United States under the trading symbol "MEOH".