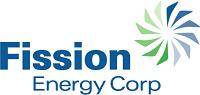 KELOWNA, BRITISH COLUMBIA -- (Marketwired) -- 04/24/13 -- FISSION ENERGY CORP. (TSX VENTURE: FIS)(OTCQX: FSSIF) ("Fission" or "the Company), and its 50% Joint Venture partner Alpha Minerals Inc., are pleased to report assay results from drill hole PLS13-053, part of the highly successful winter drill program on its PLS property. PLS13-053, within zone R390E, is located 30m grid west of PLS13-051 (see news release dated April 22, 2013) in which assays included 6.57% over 54m. Today's assays include two broad mineralized zones separated by just 4.5m of unmineralized pelitic rocks.

UPPER URANIUM ZONE = 66m - 115.5m


--  49.5m @ 6.26% U3O8;--  Including 6m @ 35% U3O8--  Highest assay in the interval: 45% U3O8 over 0.5m
LOWER URANIUM ZONE = 120.5m - 136.5m
--  16.5m @ 2.63% U3O8;--  Including 3m @ 13.19% U3O8
Ross McElroy, President, COO, and Chief Geologist for Fission, commented,
"With our PLS assays once again proving such incredible grades, it's further confirmation that the winter drill program has uncovered what we feel to be the most exciting new uranium discovery in the Athabasca Basin. To be hitting holes of this caliber and at shallow depth is a fantastic achievement for the team and represents a very significant advancement for the PLS discovery."
Composited U3O8 mineralized intervals are summarized in Table 1 below. Samples from the drill core are split in half on site. Where possible, samples are standardized at 0.5m down-hole intervals. One-half of the split sample is sent to the laboratory for analysis and the other half remains on site for reference. The results show that the uranium is concentrated continuously within two zones: a) an upper 49.5m wide interval (66.0m - 115.0m), with a 6.0m wide higher grade core (98.5m - 104.5m) that grades 35.0% U3O8 and b) a lower 16.5m wide interval (120.0m - 136.5m) that averages 2.63% U3O8, with a 3.0m wide higher grade core (130.0m - 133.0m) that grades 13.19% u3O8. Several additional narrow intervals of weak mineralization were present from 145.0m to 219.5m.
Not all assay results have been received for PLS13-053, but the outstanding intervals are not expected to be anomalous. All depth measurements reported, including sample and interval widths are down-hole, core interval measurements and true thickness are yet to be determined.
Table 1:
Composited Mineralized Intervals (Down-hole measurements)----------------------------------------------------------------------------                      Grid       From           To     Interval         U3O8Zone      Hole ID     Line        (m)          (m)          (m)        (wt%)--------------------------------------------------------------------------------------------------------------------------------------------------------R390E   PLS13-053     375E      66.00       115.50        49.50         6.26                                98.50       104.50         6.00        35.00                               120.00       136.50        16.50         2.63                               130.00       133.00         3.00        13.19                               145.00       145.50         0.50         0.14                               160.50       161.00         0.50         0.09                               218.50       219.50         1.00         0.07----------------------------------------------------------------------------Composite Parameters1. Minimum Thickness: 0.50m2. Grade Cut-Off: 0.05 U3O8 (wt%)3. Maximum Internal Dilution: 2.00m