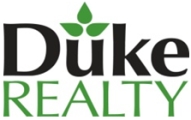 INDIANAPOLIS, IN -- (Marketwired) -- 04/24/13 -- Duke Realty Corporation (NYSE: DRE), a leading industrial, suburban and medical office property REIT, today reported results for the first quarter of 2013.

"Significant progress on asset dispositions, strong development starts and timely capital markets transactions all in accordance with strategic plan resulted in another excellent quarter," said Denny Oklak, Chairman and CEO. "Core FFO was $0.26 per share and AFFO was $0.23 per share. We achieved strong same-property net operating income growth of 2.4 percent as compared to the twelve months ended March 31, 2012. There was continued strong momentum in new development starts during the quarter with six build-to-suit projects and one speculative development project, at a combined projected stabilized yield of approximately 8 percent. We also completed significant disposition activity during the quarter with $223 million in proceeds from primarily suburban office buildings, substantially advancing our asset repositioning strategy. In the capital markets, we significantly bolstered our balance sheet with a $572 million equity raise in January, a redemption of $178 million 8.375 percent coupon preferred shares in February, followed by a $250 million ten-year, senior unsecured note offering in March to pre-fund May 2013 maturities, at a company record low 3.72 percent effective rate."

"We completed 6.3 million square feet of leasing activity and finished the quarter with overall portfolio occupancy of 91.8 percent. Occupancy decreased slightly from December 31, 2012, due to a few large lease expirations at the end of the quarter, as well as two larger dispositions, both of which were anticipated in our annual guidance. However, I'm pleased to note that a majority of the vacancies created by expiring leases were immediately backfilled and a pipeline of prospects for the remaining vacated spaces is strong. Overall, we are pleased with our outstanding first quarter."

Quarterly Highlights

Core Funds from Operations ("Core FFO") per diluted share was $0.26 for the quarter. Funds from Operations ("FFO") per diluted share, as defined by the National Association of Real Estate Investment Trusts ("NAREIT"), was $0.24 for the quarter.

Solid operating results:

•Total in-service portfolio occupancy of 92.1 percent and bulk industrial in-service occupancy of 93.6 percent at March 31, 2013; •Total leasing activity of approximately 6.3 million square feet in the first quarter of 2013; •Same-property net operating income growth of 2.4 percent for the twelve months ended March 31, 2013 and 2.6 percent for the three months ended March 31, 2013, as compared to the comparable periods ended March 31, 2012.

Progress on asset and capital strategies:

•Completed $223 million of dispositions; •Completed approximately $30 million of acquisitions during the quarter; •Began over $139 million of new developments, consisting of two industrial developments totaling 920,000 square feet, four build-to-suit medical office buildings totaling 148,000 square feet and one build-to-suit office building totaling 200,000 square feet; •Issued 41.4 million shares of common equity, raising $572 million in net proceeds; •Redeemed $178 million of 8.375 percent Series O Preferred Shares resulting in annual dividend savings of nearly $15 million; •Issued $250 million of ten-year, senior unsecured notes, with an effective rate of 3.72 percent, which, after being used to fund May unsecured debt maturities, will result in an ongoing annual reduction to interest expense of nearly $7 million; •Ended the first quarter with $307 million of cash on hand and zero balance on our line of credit.