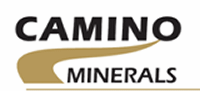 VANCOUVER, BRITISH COLUMBIA -- (Marketwired) -- 04/24/13 -- Camino Minerals Corporation (TSX VENTURE: COR) ("Camino" or the "Company") is pleased to announce that diamond drilling has commenced at the El Secreto Gold and Silver Project ("El Secreto") located in Sinaloa State, Mexico. Camino's 3,000 metre diamond drill program will test nine different exploration targets within an extensive vein field that is over 60 square kilometres in size. Three of these targets were drilled by the Company in an earlier reverse circulation program with the remainder being new exploration targets that have never been tested before.

The three targets previously drilled by Camino, the Corn Field Vein, the El Secreto Vein and the Southwest Vein, returned anomalous gold and silver mineralization and were highly anomalous in arsenic and antimony. In a paper written by Erme Enriquez, 1995, titled Trace Element Zonation and Temperature Controls of the Tayoltita Ag-Au Hydrothermal System, San Dimas District, Durango, Mexico, high arsenic and antimony values are found above the "Favourable Zone", which hosts all of the deposits at San Dimas. The Company believes that the mineralization encountered in earlier drilling is situated high in a mineral system and that significant gold and silver mineralization may exist at depth in stockwork zones and ore shoots.

The Corn Field Zone contains the Corn Field Vein and the recently discovered Corn Field South Vein, a parallel vein structure located approximately 150 metres south, which have been traced for over 1.2 kilometres. Hole SE-12-001, Corn Field Vein, returned 84 metres of 0.33 g/t Au and 6.5 g/t Ag, including 30 metres of 0.58 g/t Au and 11.1 g/t Ag. The mineralization encountered in SE-12-001 began downhole at 85.5 metres and the trace element signature suggests that the Favourable Zone may exist at depth. Chip samples collected from the Corn Field Vein South, a new target that will also see drilling, have returned values up to 9.9 g/t Au, 85.6 g/t Ag and 0.3% Pb over 1.5 metres and 3.30 g/t Au, 14.1 g/t Ag and 0.7% Pb over 1 metre.

At the El Secreto Zone, 5 kilometres east of the Corn Field Zone, drilling will test at depth the El Secreto Vein, which has been traced for over 500 metres and contains two artisanal adits: the upper adit and the lower adit. A rock sample collected from the upper adit returned 11.9 g/t Au and 50.8 g/t Ag and a 1.5 metre chip sample taken from the lower adit returned 15.25 g/t gold, 41.8 g/t silver and 0.12% lead.

Chip samples taken from the Southwest Vein have returned values up to 8.51 g/t Au and 13.25 g/t Ag over 6 metres and 3.05 g/t Au, 67.8 g/t Ag and 0.17% Cu over 1 metre. Traced for over 750 metres, the Southwest Vein has only been tested by one drill hole, Hole SE-12-003, which returned 19.5 metres of 0.34 g/t Au and 21.5 g/t Ag. Like both the Corn Field Vein and the El Secreto Vein, Camino believes that deeper drilling at the Southwest Vein may lead to the discovery of significant gold and silver mineralization.

Camino's property wide exploration program has successfully identified a number of new promising drill targets, each of which represent a discovery opportunity. These targets include the Corn Field South Vein, the El Molino Vein, the Santos Vein, the Dalila Vein, the Cerro Verde Zone and Rio Verde Zone.