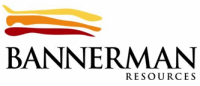 PERTH, AUSTRALIA -- (Marketwired) -- 04/24/13 -- Bannerman Resources Limited (TSX: BAN)(ASX: BMN)(NAMIBIAN: BMN) ("Bannerman") is pleased to announce highlights from its March 2013 Quarterly Activities Report released today. The full report is available on Bannerman's website at www.bannermanresources.com and on SEDAR (www.sedar.com).

HIGHLIGHTS


-- Significant industry events during the quarter included Russian state owned ARMZ announcing a C$1.3bn friendly takeover of Canadian listed Uranium One -- continuing the trend for SOEs, including Chinese, Russian and Korean entities to secure long term supply through corporate acquisitions; and -- further consolidating the listed uranium equities space and thereby further reducing the pool of globally significant uranium only investment opportunities-- Continued review of overhead costs has resulted in a further significant reduction in quarterly expenditure-- Cash of A$4.76 million as at 31 March 2013-- The period ending 31 March 2013 represents in excess of 40 months that the Company's staff and contractors have operated without a lost time injury
During the March quarter, the uranium mining industry was further rationalised through two proposed friendly takeovers. It is noteworthy that the proposed acquisition of Uranium One by its major shareholder ARMZ will result in the delisting of another large global uranium only company. Denison Corporation's proposed acquisition of the advanced exploration assets of Fission Energy Corporation further consolidates the opportunities to invest in medium term production.
Uranium demand related activities included the commencement of construction of two new nuclear reactors in the USA and the commitment to the construction of two in the UK. The UK nuclear reactors are expected to be the first in a series of new reactors the UK government has proposed as part of its plans to replace ageing coal and nuclear facilities. In China, the construction of 29 reactors continues with numerous construction progress reports released during the quarter.
In Japan, the recently elected Liberal Democratic Party continues to state its commitment to restarting that country's nuclear plants in an orderly fashion over the next three years.
Shareholders in Bannerman are well placed to capitalise on the widely anticipated increase in the uranium price, with the advanced Etango Project regarded as one of the very few globally significant uranium projects that can realistically be brought into production in the medium term.
Len Jubber, Chief Executive Officer
24 April 2013
About Bannerman - Bannerman Resources Limited is an exploration and development company with uranium interests in Namibia, a southern African country which is a premier uranium mining jurisdiction. Bannerman's principal asset is its 80%-owned Etango Project situated southwest of Rio Tinto's Rossing uranium mine and CGNPC's Husab Project and to the west of Paladin Energy's Langer-Heinrich mine. Etango is one of the world's largest undeveloped uranium deposits. Bannerman is focused on the development of a large open pit uranium operation at Etango. More information is available on Bannerman's website at
www.bannermanresources.com
.
Technical Disclosures
Certain disclosures in this report, including management's assessment of Bannerman's plans and projects, constitute forward looking statements that are subject to numerous risks, uncertainties and other factors relating to Bannerman's operation as a mineral development company that may cause future results to differ materially from those expressed or implied in such forward-looking statements. Full descriptions of these risks can be found in Bannerman's various statutory reports, including its Annual Information Form available on the SEDAR website, sedar.com. Readers are cautioned not to place undue reliance on forward-looking statements. Bannerman expressly disclaims any intention or obligation to update or revise any forward-looking statements whether as a result of new information, future events or otherwise.
Mineral Resources that are not Ore Reserves do not have demonstrated economic viability.
Bannerman Resources Limited ("Bannerman") manages its drilling and assaying activities in accordance with industry standard quality assurance/quality control (QA/QC) procedures. Samples are collected by Bannerman personnel and prepared in accordance with specified procedures at the relevant assay laboratories. Drill samples were analysed for uranium by the Bureau Veritas Laboratory in Swakopmund, Namibia. Bureau Veritas is an International Laboratory Group with operations in 140 countries, including Ultratrace and Amdel in Australia. Assay QA/QC involves the use of assay standards (sourced from African Mineral Standards (AMIS) in Johannesburg, made from Bannerman pulp rejects and cross-checked through umpire laboratories for which the round robin reports are available), field duplicates, blanks and barren quartz flushes. A third party "umpire" laboratory (Genalysis in Perth) is used to cross-check and validate approximately 5% of the assay results in accordance with standard procedures. Sample coarse rejects are retained and approximately 5% of samples are re-submitted for further assay verification. All sample pulps, half-core and rock-chip samples are retained at Bannerman's Goanikontes Warehouse Facility (GWS) on site.
The information in this report relating to the Ore Reserves of the Etango Project is based on information compiled or reviewed by Mr Harry Warries, a full time employee of Coffey Mining Pty Ltd. Mr Warries is a Fellow of The Australasian Institute of Mining and Metallurgy and has sufficient experience relevant to the style of mineralisation and types of deposits under consideration and to the activity which is being undertaken to qualify as a Competent Person as defined in the 2004 Edition of the "Australasian Code for Reporting of Exploration Results, Mineral Resources and Ore Reserves", and is an independent consultant to Bannerman and a Qualified Person as defined by Canadian National Instrument 43-101. Mr Warries consents, and provides corporate consent for Coffey Mining Pty Ltd, to the inclusion in this report of the matters based on his information in the form and context in which it appears.
ABN 34 113 017 128


Contacts:
Bannerman Resources Limited
Len Jubber
Chief Executive Officer
Perth, Western Australia
+61 (08) 9381 1436
www.bannermanresources.com

Professional Public Relations
David Tasker
Perth, Western Australia
+61 (0)433 112 936
david.tasker@ppr.com.au

Spyros Karellas
Investor Relations
Toronto, Ontario, Canada
+1 416 800 8921
spyros@pinnaclecapitalmarkets.ca