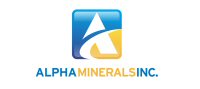 VANCOUVER, BRITISH COLUMBIA -- (Marketwired) -- 04/24/13 -- Alpha Minerals Inc. ("Alpha" or "the Company") (TSX VENTURE: AMW) (FRANKFURT: E2GA), and its Joint Venture partner Fission Energy Corp. are pleased to report assay results from drill hole PLS13-053, part of its successful winter drill program and radon survey on its Patterson Lake South ("PLS") property. PLS13-053 is part of the R390E zone which now has a drill indicated strike length of 30m, is located approximately 375m drill grid east of the Patterson Lake discovery hole PLS12-022 at the R000E zone. Composited drill hole mineralized intersections for PLS13-053 returned two broad zones of uranium mineralization separated by 4.5m of core below cut-off grade:

UPPER URANIUM ZONE = 49.5m (66.0m - 115.5m):


--  49.5m @ 6.26 U3O8--  Includes 6.0m @ 35.0% U3O8--  Including 0.5m @ 45.0% U3O8
LOWER URANIUM ZONE = 16.5m (120.0m - 136.5m):
--  16.5m @ 2.63 U3O8--  Includes 3.0m @ 13.19% U3O8
R390E Zone: has returned 3 holes with high grade mineralization at moderate depths, in the central part of a radon anomaly that extends 240 meters between line 300E and line 540E. The mineralization is open in most directions, located in a 4 km long segment of the Patterson Conductor Corridor.
PLS13-053, within the R390E zone, is located 30m grid west of PLS13-051 (see news released April 22, 2013) in which assays included 53m of 6.57% U3O8 including 10.5m of 29.26% U3O8. PLS13-053 is also located 15m grid west of PLS13-038 (see news release dated March 24, 2013) in which assays included 4.92% U3O8 over 34m. Like drill holes PLS 13-038 and PLS13-53, this latest drill hole was targeted within the large radon anomaly in lake water sampling identified in earlier work this year by the Joint Venture. The radon anomaly extends beyond the area drilled to date.
The drill hole was vertical and intersected the mineralization within a steeply dipping interval of graphitic meta pelitic rock. All measurements of length reflect drill core lengths here and have not been estimated as true widths. There is significant matching of similar assays of the drill holes in this zone over a strike length now exceeding 30 meters and all well within the radon anomaly.
The radon survey is currently being extended beyond the limits original experimental radon work. The results of which, to date, include the discovery of zones R390E and R790E and strongly indicate that significant uranium mineralization is a source, more than 50 meter deep, of the radon anomalies in those zones.
Composited U3O8 mineralized intervals are summarized in Table 1 below. The results show that the uranium is concentrated in two zones separated by 4.5m:
The upper zone shows continuous uranium throughout the 49.50m interval (66.0m - 115.0m) that averages 6.26% U3O8, with a 6.0m wide higher grade core (98.5m - 104.5m) that averages 35.0% U3O8.
The lower zone shows a 16.5m wide interval (120.0m - 136.5m) that averages 2.63% U3O8, with a 3.0m (130m - 133.0m) higher grade interval that averages 13.19% U3O8. Several additional narrow intervals of weak mineralization were present from 145.0m to 219.5m. Not all assay results have been received for PLS13-053, but the outstanding intervals are not expected to contain anomalous uranium values.
Table 1:Composited Mineralized Intervals (Down-hole measurements - not true widths)----------------------------------------------------------------------------Zone       Hole ID   Grid Line  From (m)    To (m)  Interval (m)  U3O8 (wt%)--------------------------------------------------------------------------------------------------------------------------------------------------------R390E    PLS13-053        375E    66.00    115.50         49.50        6.26                                  98.50    104.50          6.00       35.00                                 120.00    136.50         16.50        2.63                                 130.00    133.00          3.00       13.19                                 145.00    145.50          0.50        0.14                                 160.50    161.00          0.50        0.09                                 218.50    219.50          1.00        0.07----------------------------------------------------------------------------Composite Parameters1. Minimum Thickness: 0.50m2. Grade Cut-Off: 0.05 U3O8 (wt%)3. Maximum Internal Dilution: 2.00m