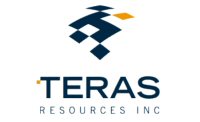 CALGARY, ALBERTA -- (Marketwired) -- 04/23/13 -- Teras Resources Inc. ("Teras" or the "Company") (TSX VENTURE: TRA)(OTCQX: TRARF): Teras is very pleased to report results from its ongoing geochemical sampling program at the Cahuilla project in Imperial County, California. A total of 65 additional samples were collected west of the known gold/silver resource within a transtensional dilatant zone that has not been adequately tested by exploration drilling. The geochemical sample results are exceptional; and as a result, the Company continues to significantly enhance the exploration potential of Cahuilla in relatively untested areas well outside of the defined NI 43-101 resource. The Company previously reported results from the northeast target area in a press release dated February 19, 2013.

The plan map below illustrates the anomalous sample locations in the west project area and their proximity to the defined NI 43-101 precious metal resource. Surface geochemical samples were collected within a transtensional dilatant zone where the Modoc Fault turns from an east-west to southwest-trending strike. Samples were collected within this complex structural zone in strongly silicified sediments, volcanic breccia and massive chalcedony-carbonate veins that can measure more than 25 meters thick.

To view the map associated with this press release, please visit the following link: http://media3.marketwire.com/docs/868462Map.pdf.

Of the 65 surface geochemical samples collected, 13 assayed greater than 1.0 g/t gold with a high of 4.4 g/t. Many of the historic exploration holes (green) drilled in the west target were strongly anomalous in precious metal mineralization, however these reverse circulation angle holes were drilled to relatively shallow depths and tested only a very small portion of this highly complex and prospective structural target. The geochemical sample program is planned to continue in the far southwestern project area as shown above in the near future.

Peter Leger, President and CEO of Teras Resources commented, "We are very pleased with the continued success of our ongoing geochemical sampling program. The new samples collected in this western dilatant zone reported strongly anomalous to ore grade precious metal mineralization which defines yet another high priority exploration target and compliments our recently discovered, extensive northeast target. The potential for significantly increasing precious metal resources at Cahuilla continues to be considerably enhanced as we continue our development/exploration efforts for the purpose of creating value for our shareholders."

In other news, Teras is pleased to report that significant progress has been realized in compiling the technical data room for Cahuilla, which includes detailed geology, geophysics and geochemistry in addition to the NI43-101 complaint resource database. The Company will begin presenting Teras and Cahuilla to the markets and interested parties in the near future for the purpose of evaluating this superior project for potential transaction purposes or to develop a mutually beneficial working relationship.