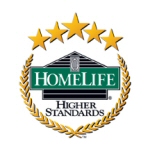 TORONTO, ONTARIO -- (Marketwired) -- 04/23/13 -- HomeLife Realty Services Inc. continues to reinforce brand awareness in the minds of Canadian consumers and sustain the momentum of the Green & Gold Got It Sold campaign. This year's program encompasses a strategic mix of over 700 Billboards, Super boards and Transit posters with additional Radio support in markets across Canada including:


Nova Scotia: Halifax, Dartmouth.Ontario: Barrie, Brampton, Burlington, Guelph, Hamilton, London, Oshawa, Ottawa, Toronto and the GTA, Windsor and more.Saskatchewan: Regina and Saskatoon.Alberta: Calgary.
HomeLife Realty Services Inc. has undertaken this massive campaign to maintain its position as one of Canada's largest real estate broker networks and encourage new business for its brokerages and members across the country.
HomeLife Realty Services Inc. is a privately held company established in 1985 with offices coast to coast and around the world. The company prides itself on a suite of unique systems, services and tools that allows it to offer Higher Standards™ realty services to its 7000 plus members and their clients.


Contacts:
HomeLife Realty Services Inc.
Adam Price
416 733 9966
adamprice@homelife.com