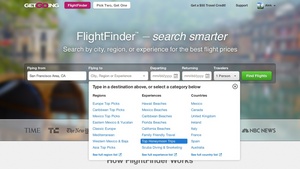 Searching for flights is broken -- until now. With FlightFinder by GetGoing.com, you can search smarter by region, country, or even the experience you're looking for -- then we'll show you the most affordable flight options in a single search.


SAN FRANCISCO, CA -- (Marketwired) -- 04/23/13 -- GetGoing, the new travel site dedicated to helping leisure travelers discover and book more affordable trips, today announced the introduction of its new FlightFinder™ intelligent flight search technology. With FlightFinder, GetGoing is expanding beyond its Pick Two, Get One™ platform -- which provides up to 40% off flights for flexible travelers -- to provide personalized flight search that uncovers the best prices for the destination a traveler searches for, as well as cheaper alternatives they may not have thought of.

FlightFinder enables travelers to search for a specific place (e.g., JFK), or quickly and easily search places across an entire region (e.g., Europe), or for destinations that match a particular experience (e.g., scuba diving) to find the most affordable destinations and convenient flight options. Travelers can book a flight to the destination they had in mind, or discover a less expensive alternative that provides a similar experience. For example, a traveler can search for Maui, and FlightFinder will show the best prices for Maui as well as more affordable flights for nearby locations -- like Honolulu, Kauai, etc. -- that are available during the dates they searched. Or one can search for something as general as "beaches" or "scuba diving," and FlightFinder will provide the most affordable flight recommendations that match the traveler's desired experience.

"At GetGoing, we're all about helping people travel more -- and we're doing that by helping to remove the financial barriers that prevent so many from traveling. Coming on the heels of our Pick Two, Get One system -- the industry's best flight deal platform -- we're now introducing a better way to find and book flights," said Alek Vernitsky, Co-Founder and CEO of GetGoing. "FlightFinder will find the best price -- guaranteed -- not only for the specific place a traveler searches for, but also for the region or experience they might be interested in. And just as importantly, it saves you time. You no longer need to search every Hawaiian beach and 10 Caribbean islands separately. We find all the best deals for you, on your favorite airlines, in 20 seconds or less."