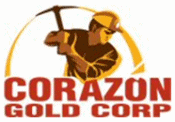 VANCOUVER, BRITISH COLUMBIA -- (Marketwired) -- 04/23/13 -- Corazon Gold Corp. ("Corazon" or the "Company") (TSX VENTURE: CGW)(OTCBB: RMZFF) is pleased to provide an update of this year's activities on the Goldfield Bonanza Project and to announce that the Company has successfully renegotiated the terms of the option agreement it holds to acquire the Goldfield Bonanza property. The project is located in the historic Goldfield mining district of Nevada. The Goldfield district is well known for multi-ounce, bonanza grade gold ores and has recorded historic production in excess of 4.2 million ounces of gold at an average grade of greater than 17 g/t Au (0.5 opt). In May 2011, ICN Resources released drill results in core hole ICN-003 that intercepted 45.6 metres of 96.3 g/t Au (uncut).

Corazon is pleased to announce it has successfully revised the terms of the Option Agreement with Lode Star Gold Inc. ("Optionor") and has reduced a payment due in April 2013 from $400,000 to $50,000. The Company will make another payment of $50,000 on October 7, 2013 and $300,000 in April 2014, $800,000 in April 2015 with a final payment of $1,600,000 in April 2016. Corazon has also reduced the Area of Interest (AOI) around the Goldfield Bonanza property from one mile to one-half mile. This reduced AOI will allow Corazon to increase its land position elsewhere in the Goldfield area to explore new targets. Corazon will issue 500,000 shares to Lode Star in consideration for these amendments.

The Company has focused much of its activities this year on the Goldfield Project, post its business combination with ICN Resources. Geologic work has identified numerous new target areas for further exploration based on analysis of additional bio-geochemical survey results, detailed GIS compilation of all available historic data and a recent program of underground mapping and sampling. A map of this latest work can be found at: http://www.corazongold.com/i/maps/goldfield_bonanza/GF_GT_Bio_CSAMT_ltr.pdf.

In December 2012, additional bio-geochemical samples were collected in an expanded phytogeochemical survey, following up on the positive results from an initial orientation survey (see ICN News Release dated June 4, 2012 for details of results and explanation of technique: http://www.corazongold.com/s/NewsReleasesICN.asp?ReportID=546451&_Type=ICN-News-Releases&_Title=New-Exploration-Targets-Identified-at-ICNs-Goldfield-Project).

Reno, Nevada based Minerals Exploration & Environmental Geochemistry, interpreted results from this sampling earlier this year and identified new priority exploration targets (see full report: http://www.corazongold.com/i/pdf/GOLDFIELD_FinalReport_1-23-12.pdf). The author and well-known exploration geochemist, Shea Clark Smith, stated: "The author notes that gold concentrations in these samples are exceptionally high for sagebrush and rabbit brush in Nevada. Concentrations above 5 ppb Au are rare, and most of the samples from this survey are 5-80 ppb. This attests to the probability that ground water is interacting with significant gold concentrations in the subsurface, near and below the ground water saturation zone." He also noted: "Significant gold concentrations ranging from 2-120 ppb represent the top 99th percentile of concentrations normally found in Nevada phytogeochemical data."