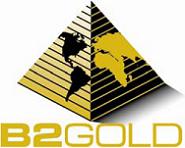 VANCOUVER, BRITISH COLUMBIA -- (Marketwired) -- 04/23/13 -- B2Gold Corp. (TSX: BTO)(OTCQX: BGLPF)(NAMIBIAN: B2G) ("B2Gold" or the "Company"), is pleased to announce gold production and revenue numbers for the first quarter of 2013, which includes gold production and sales from the Masbate Mine in the Philippines, acquired on January 16, 2013 as a result of the completion of the CGA Mining Limited ("CGA Mining") merger. All dollar figures are in United States dollars unless otherwise indicated.

2013 First Quarter Highlights


--  Record gold revenue for the quarter of $154.9 million--  Record gold production for the quarter of 86,747 ounces (includes    Masbate Mine as of January 01, 2013)--  Record gold sales for the quarter of 95,042 ounces
First Quarter 2013 Gold Production
B2Gold gold production from La Libertad and Limon mines in Nicaragua in the first quarter of 2013 was 43,194 ounces of gold, which exceeded budget by 2,287 ounces. Gold production at the Masbate Mine in the first quarter was 43,554 ounces of which 36,467 ounces will be included in the consolidated results of B2Gold. The difference relates to production from January 01, 2013 to January 15, 2013 prior to the closing of the acquisition. Total gold production for the first quarter including the consolidation of the Masbate Mine as of January 01, 2013 was 86,747 ounces. Attributable gold production to B2Gold based on the January 16, 2013 acquisition date was 79,661 ounces.
Total production in the first quarter from La Libertad open pit gold mine was 29,124 ounces of gold, which was 1,159 ounces higher than budget. The main reasons for the improved production at La Libertad Mine were improved gold grades of 1.98 grams per tonne ("g/t") gold versus budget of 1.96 g/t gold and higher gold recoveries of 93.8% compared to budget of 92.0%.
The Limon open pit and underground mine also had a strong quarter, producing 14,070 ounces of gold compared to a budget of 12,942 ounces. In the month of March the Limon mine produced 5,200 ounces of gold achieving its best monthly production since being acquired by B2Gold in 2009. The higher than budgeted gold production for the quarter was a result of higher milled tonnes of 108,030 (budget 102,908) and slightly higher gold head grades of 4.43 g/t gold (budget 4.29 g/t gold).
First quarter production at the recently acquired Masbate Mine in the Philippines was 43,554 ounces of gold compared to the CGA Mining budgeted number of 48,321 ounces of gold. B2Gold's forecast gold production for the Masbate Mine was estimated at 43,894 ounces for the first quarter and between 175,000 and 185,000 ounces for the year as compared to CGA Mining guidance of 200,000 ounces. 2013 production will be impacted by a change out of the old SAG mill with a new SAG mill to be delivered in late August or September. B2Gold and Masbate engineers and geologists are working towards an updated geological model and mine plan which will incorporate drilling from the 2012 exploration program. B2Gold's technical team believes the new reserve and mine plan will be completed by mid-2013. The updated mine plan will be used to provide B2Gold guidance for 2013 production and cash cost numbers. The Company's technical team will also be reviewing potential expansion plans for Masbate based on the updated geological model. Guidance for the potential expansion of the Masbate mill is targeted for completion by early 2014.