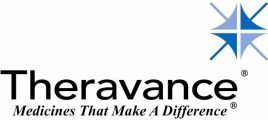 LONDON and SOUTH SAN FRANCISCO, CA -- (Marketwired) -- 04/22/13 -- GlaxoSmithKline plc(GSK) and Theravance, Inc. (NASDAQ: THRX) today announced the submission ofa regulatory application to the Japanese Ministry of Health, Labour andWelfare (MHLW) for the investigational once-daily LAMA/LABA combinationmedicine, UMEC/VI, for patients with chronic obstructive pulmonary disease(COPD). GSK and Theravance announced the submission of a regulatoryapplication for UMEC/VI for patients with COPD in the United States (US) on18th December 2012 and in Europe on 9th January 2013.

UMEC/VI is a combination of two investigational bronchodilator molecules -GSK573719 or umeclidinium bromide (UMEC), a long-acting muscarinicantagonist (LAMA) and vilanterol (VI), a long-acting beta2 agonist (LABA),administered using the ELLIPTA™ inhaler.

Japanese Submission:
A New Drug Application (NDA) for UMEC/VI (62.5/25mcg and 125/25mcg doses),with the proposed proprietary name ANORO™ ELLIPTA™, has beensubmitted to the Japanese Ministry of Health, Labour and Welfare (MHLW) asa maintenance bronchodilator treatment to relieve symptoms of obstructiveairway disorder due to chronic obstructive pulmonary disease (COPD)(chronic bronchitis and emphysema).

Future Regulatory Submissions:
GSK intends to commence global regulatory submissions for UMEC monotherapylater this year.

Other Respiratory Development Programmes:
UMEC/VI is one of several late-stage assets in the GSK respiratorydevelopment portfolio, which includes fluticasone furoate/vilanterol(FF/VI, with proposed brand names RELVAR™ ELLIPTA™ and BREO™ELLIPTA™), VI monotherapy and MABA (GSK961081), developed incollaboration with Theravance, as well as GSK's investigational medicinesFF monotherapy, UMEC monotherapy and anti-IL5 MAb (mepolizumab). Theseinvestigational medicines are not currently approved anywhere in the world.

ANORO™, RELVAR™, BREO™ and ELLIPTA™ are trademarks of theGlaxoSmithKline group of companies. The use of these brand names is notapproved by any regulatory authorities.

GlaxoSmithKline -- one of the world's leading research-basedpharmaceutical and healthcare companies -- is committed to improving thequality of human life by enabling people to do more, feel better and livelonger. For further information please visit www.gsk.com

Theravance - is a biopharmaceutical company with a pipeline ofinternally discovered product candidates and strategic collaborations withpharmaceutical companies. Theravance is focused on the discovery,development and commercialization of small molecule medicines across anumber of therapeutic areas including respiratory disease, bacterialinfections, and central nervous system (CNS)/pain. Theravance's keyprogrammes include: RELVAR™ or BREO™ ELLIPTA™ (FF/VI), ANORO™ELLIPTA™ (UMEC/VI) and MABA (Bifunctional Muscarinic Antagonist-Beta2Agonist), each partnered with GlaxoSmithKline plc, and its oral PeripheralMu Opioid Receptor Antagonist programme. By leveraging its proprietaryinsight of multivalency to drug discovery, Theravance is pursuing abest-in-class strategy designed to discover superior medicines in areas ofsignificant unmet medical need. For more information, please visitTheravance's web site at www.theravance.com.