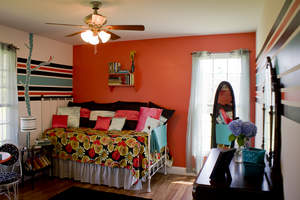 2012 Earn Your Stripes Grand Prize Winner


AVON, OH -- (Marketwired) -- 04/02/13 -- Looking for an excuse to spruce up a dull and drab living space? Now, homeowners have a great incentive -- and the opportunity to win big -- with the FrogTape® brand painter's tape third annual Earn Your Stripes™ room makeover contest. The competition encourages contestants to transform an ordinary room into something extraordinary simply by using a little creativity, paint and FrogTape to create sharp, clean lines and unique designs.

From April 1 to July 1, homeowners in the United States and Canada can submit a room makeover in one of six categories, including kids' rooms/nurseries, bedrooms, kitchens/bathrooms, living/dining rooms, man caves/basements and other.

By submitting before, during and after photos, homeowners have the chance to win one of several cash prizes, with the best transformation receiving $5,000; second place winning $2,500; and third place taking home $1,000. Plus, in addition to the grand prizes, one standout submission in each of the six categories will win $100. And best of all, no one goes home empty-handed -- every Earn Your Stripes contestant with an approved submission will receive a prize pack that includes a FrogTape bag, t-shirt and rolls of FrogTape, perfect for tackling your next home improvement project.

"Each year, the submissions into the FrogTape Earn Your Stripes contest are better than the year before," said Kristin Osinski, media relations manager, ShurTech Brands, LLC. "This contest encourages people to step outside their comfort zone and pushes them to their creative limits, helping them to complete a space that's truly their own."

A panel of judges, including FrogTape Spokesperson and "Restaurant: Impossible" construction manager, Tom Bury, will rate entries based on three criteria: workmanship (50%), originality (35%) and accessories (15%). For complete rules and details visit frogtape.com/earnyourstripes.

Last year's Grand Prize Winner was Olivia Pruitt from Chatham, Va., who transformed her bland bedroom into a colorful oasis featuring unique designs reflecting her personality. Using FrogTape, she created a custom tree and bird pattern on the wall to coordinate with bold, multi-colored stripes painted in pink, black and teal. For additional character, Pruitt accessorized her new space with a painted lamp shade, a revamped photo album and a freshly painted mirror frame. In second place was Erin Willis from Lincoln, Neb.; and third place was Jodi Dress from Kingwood, Texas.

FrogTape is the only painter's tape treated with PaintBlock® Technology which forms a micro-barrier that instantly seals the edges of the tape, creating crisp lines and helps prevent paint bleed. To help tackle any renovation or DIY project from walls to accessories, FrogTape is available in two different adhesive technologies. FrogTape Multi-Surface features a medium adhesive perfect for cured paint, unfinished wood, metal, glass and more. For surfaces that need a lower level of adhesion, such as wallpaper, faux finishes or paint that's only 24 hours old, FrogTape Delicate Surface helps eliminate the risk of damage while delivering sharp lines. FrogTape brand painter's tape is also available in a variety of widths, taking the creative possibilities even further.