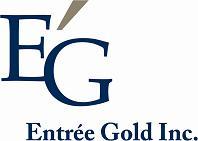 VANCOUVER, BRITISH COLUMBIA -- (Marketwired) -- 04/02/13 -- Entree Gold Inc. (TSX: ETG)(NYSE MKT: EGI)(FRANKFURT: EKA) ("Entree" or the "Company") has today filed its annual operational and financial results for the year ended December 31, 2012. The Company's Annual Report on Form 40-F has been filed with the SEC, and is available on the Company website at www.entreegold.com. Shareholders can receive a free hard copy of the Company's audited Annual Financial Statements upon request. All dollar figures in this news release are in United States currency unless otherwise noted.

Greg Crowe, President and CEO commented, "The year 2012 was dominated by global economic contractions. In spite of the fact that copper and gold prices remained relatively strong, the junior resource industry was hit particularly hard. One of the major impacts of this contraction was that traditional financing sources for junior resource companies evaporated. Entree was successful in securing a financing package of approximately $55 million from Sandstorm Gold Ltd. (see news release of February 15, 2013) tied to two of Entree's main assets in Nevada and Mongolia. The equity private placement component of this financing resulted in Sandstorm becoming one of our largest shareholders. This financing package provides an independent third party endorsement of our assets and has left Entree in a strong financial position in these challenging economic times.

Entree also significantly advanced the Ann Mason Project in 2012. This resulted in the completion of a positive Preliminary Economic Assessment on the Ann Mason deposit (see news release of October 24, 2012) and the first resource estimate for the Blue Hill copper oxide and sulphide deposit (see news release of October 29, 2012). The Ann Mason deposit, located in the mining friendly and politically stable jurisdiction of Nevada, returned a base case net present value of $1.1 billion and a mine life of over 24 years at an average annual production rate of 100,000 tonnes per day. Both Ann Mason and Blue Hill have scope for optimization and expansion."

Greg Crowe further noted, "Ongoing issues between Rio Tinto and the Mongolian government, in this Presidential election year in Mongolia, have featured prominently in resource sector news. Entree, as a joint venture partner on a portion of the Oyu Tolgoi mining complex, has also experienced the negative effects of this uncertainty in Mongolia. In February 2013, the Mineral Resources Authority of Mongolia ("MRAM") temporarily suspended Entree's ability to sell or transfer the joint venture licenses that host the Hugo North Extension and Heruga deposits. Entree is in discussions with the Government of Mongolia, as well as Rio Tinto and Oyu Tolgoi LLC ("OTLLC"), regarding this matter."

Highlights for the year ended December 31, 2012 and subsequent developments through March 31, 2013 include:

Mongolia

Lookout Hill Joint Venture

In 2012, development and construction at the Oyu Tolgoi mining complex advanced on schedule, with phase 1 achieving over 99% completion at the end of the year. First ore was mined from OTLLC's Southern Oyu open pit deposits, a Power Purchase Agreement was signed with China in November, the concentrator was commissioned in December and first concentrate was produced in January 2013. OTLLC is on track for first commercial production from the Southern Oyu open pits in mid-2013, subject to the resolution of certain issues between the Government of Mongolia, OTLLC and Rio Tinto.