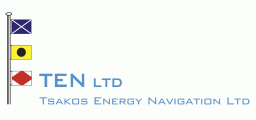 ATHENS, GREECE -- (Marketwired) -- 04/19/13 -- Tsakos Energy Navigation Limited (NYSE: TNP)

2012 HIGHLIGHTS

•Voyage revenues of $394.0 million •Combined adjusted EBITDA and net vessel sales proceeds at $157.2 million •Maintained strong liquidity of $163 million •Operating income of $14.9 million against $1.7 million in 2011 (both adjusted to exclude impairment charge) •45.0% improvement in net results - Net loss of $49.3 million compared to a net loss of $89.5 million in 2011 (both including impairment charges) •Time charter equivalent per ship per day of $17,163 compared to $16,047 in 2011, a 7.0% increase •Significant outperformance of 2012 spot market indices due to Company's T/C strategy •Eight new charters with major end-users expected to generate $97.0 million of minimum gross revenues •Commencement of LNG charter with expected gross revenues of $116.0 million •Active fleet utilization of 98% •Continued quarterly dividend payments. Total dividends paid since 2002 NYSE listing of $9.625 per share including current distribution (approx. $376 million distributed) •Sale of two older VLCCs for total proceeds of $41.8 million bringing fleet average age to 6.5 years

RECENT EVENTS

•New charters for nine product tankers with minimum gross revenues of $117.0 million over an average of 2.5 years •Delivery of the DP2 suezmax shuttle tanker, with a carrying capacity of 157,000 dwt, Rio 2016. Vessel on 15-year charter to major national end-user. Second shuttle, Brasil 2014, to be delivered in April •Fleet composition: 28 product tankers, 19 crude tankers and 2 LNG carriers •Company celebrates 20 years in the public markets with ringing of Closing Bell on the New York Stock Exchange

Tsakos Energy Navigation Limited (TEN or the "Company") (NYSE: TNP) today reported results (unaudited) for the fourth quarter and year end December 31, 2012.

FULL YEAR 2012 RESULTS
In 2012, revenues, net of voyage expenses and commissions, in 2012, totaled $270.0 million, an improvement of $16.3 million over 2011. Overall, 2012 was a challenging market environment with, however a stronger product tanker market. TEN operated an average of 47.9 vessels in 2012, similar to 2011, although the VLCC La Prudencia was inactive throughout the year and the VLCC La Madrina operated for only five months, as both vessels were "held-for-sale". The sale was accomplished for both vessels towards the end of 2012. The average daily time charter equivalent rate per vessel was $17,163, a 7% improvement over 2011. Daily operating expenses per vessel were $7,755, a modest increase over the previous year caused mainly by expenses incurred on the scheduled dry-docking of the LNG carrier at the beginning of the year. The Company's daily overhead expenses (mainly management fees and general and administrative expenses) per vessel have effectively remained stable over the past year due to cost control efforts.

Interest and finance costs fell 3.7% in 2012 to $51.6 million, mainly due to a reduction in interest rate swap payments by $5.4 million, as half these swaps expired in the second half of 2012.