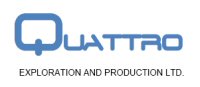 CALGARY, ALBERTA -- (Marketwired) -- 04/19/13 -- Quattro Exploration And Production Ltd. (TSX VENTURE: QXP) ("Quattro" or the "Company") is pleased to announce that it has entered into an arms-length agreement with a private Alberta-based oil and gas exploration and production company to acquire certain oil and gas interests in eastern Alberta.

The acquisition is comprised of a 100% interest in a package of gas producing properties, currently producing an aggregate 39 boe/d (of which 4% is natural gas liquids), and additional associated undeveloped lands in east central Alberta. The production is supported by stable history over the past 3 years, as well as further engineering and assessments of previously shut-in wells that are identified as candidates for re-entry and remediation of up to 110 boe/d of previously producing production within the acquired lands. The Company believes the acquired assets, collectively, provide long-term potential to achieve sustainable production levels in excess of 160 boe/d.

Quattro intends to continue to operate the majority of these assets and will retain a minority interest in certain compression and processing facilities. The effective date of the purchase is February 1st, 2013, with the purchase price being a combination of $200,000 cash and 1,500,000 Class A common shares at a deemed issue price of $0.25 per share. The acquisition has been valued by the Company at 30% of its NPV10 value, or approximately $575,000 (plus G.S.T. and all customary closing adjustments) (the "Acquisition"). The Acquisition remains subject to the normal regulatory approvals.

In addition to the closing of the Acquisition, Quattro will be pleased to welcome Jeff Boyd, principle of the vendor under the Acquisition, as Manager of Operations. A professional engineer with 28 years of experience in the upstream oil and gas industry in Western Canada, Jeff comes with diverse experience in production engineering, production operations, acquisition and divestment evaluations, and management. Leonard Van Betuw, President & CEO of the Company commented, "Jeff's history speaks for itself, his hands-on approach and his desire to become a significant equity holder in Quattro provides our shareholders a great assurance that he is aligned with management's desire to grow Quattro Exploration and Production Ltd. to the same degree as he experienced some years ago with the evolution of Canadian Natural Resources Ltd. (TSX: CNQ) from a small junior into a major producer."

The Company's management and exploration team look forward to Jeff's contributions and development of our growing and diversified asset base in Canada. His diversified experience provides a valuable foundation for his insight into the continued execution of our plans for the previously announced asset acquisition in east Central Alberta, as well as the development of our emerging cold flow heavy oil assets in the Wabasca region of Alberta.

Leonard Van Betuw, President & CEO of the Company comments, "We are very pleased this Acquisition has been concluded and we continue to proceed with a number of previously announced complementary acquisitions, with the intention of establishing adequate proven amounts of free cash flow in the first half of 2013 to support its expanding operations domestically and in Guatemala. The location of this acquisition is very complementary to our current activities and promises be very synergistic."