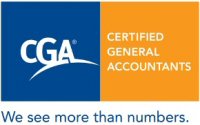 VANCOUVER, BRITISH COLUMBIA and OTTAWA, ONTARIO -- (Marketwired) -- 04/18/13 -- The Certified General Accountants Association of Canada (CGA-Canada) commissioned a study critically examining the CCA system. The findings of the paper were informed by accounting professionals working in public firms and industry executives, and provide evidence that the CCA system is complex and needs to be modernized in order to eliminate redundancies and increase efficiencies.

"CGA-Canada has repeatedly called for simplification of the income tax system," says Anthony Ariganello, FCGA and president and CEO of CGA-Canada. "Accounting professionals agree that changes to the CCA system are required to remove a layer of complexity within the current tax regime."

The study also argues that using the CCA system as the vehicle for introducing economic incentives and policy initiatives is generally not effective. Instead, utilizing investment tax credits or government grants could be a more effective method in providing incentives to an industry.

Since the establishment of the CCA system, a number of adjustments to the system have emerged. Accounting professionals and industry executives feel that these new rules and changes are unnecessary and add to the complexity of the system; they also lead to additional costs and inefficiencies that may affect profitability and international competitiveness of Canadian business. The changes include:


-- Significant increase in the number of CCA classes (from 12 to 56 classes since first introduced in 1972) and frequent changes to the CCA rates-- Significant increase in the length of descriptions of several CCA classes. Introduction of new CCA rules such as the "half-year" and "available for use" rules which can be used for tax purposes but are not applicable for accounting purposes-- Use of the CCA system for fostering economic policy initiatives including those aiming to stimulate certain industries
"The CCA system was initially introduced to ensure that taxpayers benefited from a fair and equitable system for the depreciation of capital property," says Rock Lefebvre, FCGA and vice president of Research & Standards at CGA-Canada. "But it has added increased complexity to the tax system and the many changes introduced weakened the system's equity and neutrality."
To download a copy of the study, visit:
www.cga.org/canada/research
ABOUT CGA-CANADA
Founded in 1908, the Certified General Accountants Association of Canada serves 75,000 Certified General Accountants and students in Canada and nearly 100 countries. Respected accounting and financial management professionals, CGAs work in industry, finance, government and public practice. CGA-Canada establishes the designation's certification requirements and professional standards, offers professional development, conducts research and advocacy, and represents CGAs nationally and internationally.
Visit us online at
www.cga.org/canada
Find us on Facebook:
http://www.facebook.com/cgacanada
Follow us on Twitter:
http://www.twitter.com/cgacanada
Join us on LinkedIn:
http://www.linkedin.com/groups?gid=2111514


Contacts:
CGA-Canada - Media Contact
Diana Sorace
Communications Advisor
604-694-6700 or Cellular: 604-551-4487
dsorace@cga-canada.org
www.cga.org/canada