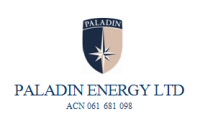 PERTH, WESTERN AUSTRALIA -- (Marketwired) -- 04/17/13 -- Paladin Energy Ltd ("Paladin" or "the Company") (TSX: PDN)(ASX: PDN) is pleased to provide its Quarterly Activities Report for the three month period ended 31 March 2013.

HIGHLIGHTS


--  Strong sales revenue of US$106M for the quarter, selling 1.92Mlb U3O8 at    average price of US$55.22/lb.--  Continued solid quarterly production, with year to date production for    FY2013 versus FY2012 at a record high.    --  combined production for the March quarter of 1.992Mlb (904t) U3O8        was 95% of nameplate production, a decrease of 9% from the December        record quarter.    --  year to date (9 months) production for FY2013 of 6.112Mlb (2,773t)        U3O8 is a 26% increase over the previous FY2012 period, reflecting        96% of combined nameplate and in line with guidance.--  Cost savings and optimisation initiatives continue successfully with    unit production costs continuing to reduce at both mines for the    quarter.--  Langer Heinrich production of 1.230Mlb (558t) U3O8 achieving 96% of    nameplate for the quarter.    --  production was influenced by temporary water constraints and some        operational issues. Those are being resolved with improved water        conservation measures in place and desalinated water scheduled to be        introduced in May.    --  year to date production (9 months) for FY2013 remains slightly above        nameplate.    --  strong recovery of 86.7% versus design of 85%.    --  feed grades of 810ppm U3O8 versus design of 800ppm.    --  production capacity remains robust and above nameplate.--  Kayelekera production of 761,992lb (346t) U3O8 achieving 94% of    nameplate for the quarter.    --  average daily production at an all-time high for the quarter.    --  feed grades of 1,094ppm U3O8 on track (design is 1,100ppm).    --  record recovery of 87.1%.    --  maintaining self sufficiency on acid requirements.    --  safety milestone of 365 lost time injury free days achieved.--  Strategic initiative work advancing well with results expected mid June    quarter.--  FY2013 production guidance of 8.0 - 8.5Mlb U3O8 remains well on target.
SAFETY
The Company's high safety performance was impacted by two lost time injuries (LTIs) incurred during the period with the 12-month moving average Lost Time Injury Frequency Rate (LTIFR) increased from 1.1 to 1.2. One LTI occurred at Langer Heinrich Mine (LHM) and involved an operator suffering an injury to his back when he slipped and fell approximately 2m. The incident investigation revealed that the employee was not using a safety harness and procedures are being adjusted to mitigate further similar incidents. The other LTI was exploration related and involved a contractor suffering a crushed finger while handling fuel drums at the Michelin camp in Canada.
During the period, the annual NOSA HSE grading audit for LHM confirmed a 4 Platinum Star rating.
There were no LTIs at Kayelekera Mine (KM) for the period. KM also achieved a milestone 365 LTI free days on 28 March 2013.
QUARTERLY URANIUM SALES
Sales for the quarter were 1,920,230lb U3O8 generating revenue of US$106M, representing an average sales price of US$55.22/lb U3O8 (average Ux spot price for the quarter was US$42.71/lb U3O8). As foreshadowed in the last Quarterly Report, sales are now more closely aligned with production although some variations can be expected from quarter-to-quarter due to customer requirements.