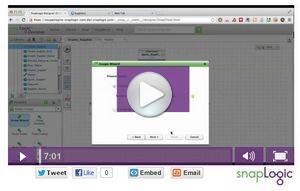 SnapLogic and Coupa Software Deliver Cloud Integration Solution that Boosts Spend Optimization in a 'Snap'


SAN FRANCISCO, CA -- (Marketwired) -- 04/10/13 -- Coupa Inspire Conference -- SnapLogic, the leader in enterprise cloud integration, and Coupa Software, the leading provider of cloud-based spend optimization solutions for finance, today announced that the companies will showcase how SnapLogic's intelligent connector for Coupa allows customers to quickly and easily synchronize valuable spending data between cloud or on-premises applications. The announcement was made at the Coupa INSPIRE Conference in San Francisco this week.

"By moving large volumes of order and planning data between Coupa and our other cloud applications, SnapLogic helps us improve our decision making and business agility, while future-proofing our application architecture with a flexible enterprise integration layer," said Richard Rothschild, vice president of enterprise information services at Pandora, who will present at Coupa Inspire today. "The Coupa Snap has helped us optimize our spend, while increasing IT productivity and eliminating tedious processes for synching and transforming data across our 100 percent cloud-based ecosystem."

Coupa provides a unified suite of cloud applications for finance that helps companies increase their control and generate savings that go directly to the bottom line. Coupa combines procurement, accounts payable, and expense management capabilities into a single unified solution that is easy to use, cost effective, and fast to configure and deploy. SnapLogic's Coupa Snap is a rich connector that allows Coupa's customers to integrate large sets of data from other cloud or on-premises applications in order to more easily and accurately determine the best cost-savings strategies for their companies. SnapLogic quickly integrates supplier and invoice data from Coupa with related finance or ERP systems across an enterprise.

"Our customers are moving more and more of their applications to the cloud, and SnapLogic's cloud integration platform and expansive SnapStore ecosystem are ideally suited to helping them integrate Coupa with any system they need," said Roger Goulart, vice president, business development and alliances for Coupa. "The Coupa Snap instantly helps customers identify innovative ways to increase their spend power and save money for their companies."

"The ability for enterprises like Pandora to harness and analyze all kinds of data streams is a key to their operational success and competitive differentiation," said Erik Hoogerhuis, senior director of business development and channels at SnapLogic. "Our SnapLogic Integration Platform and the Coupa Snap help companies dramatically simplify and accelerate the process of extending the Coupa universe to all of their apps on-premises or in the cloud -- lowering integration costs by 10x, and improving time to value by as much as 6x."