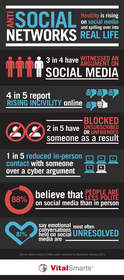 New study from the authors of 'Crucial Conversations' shows hostility is rising on social media and spilling over into real life.



PROVO, UT -- (Marketwired) -- 04/10/13 -- Social networks are becoming increasingly hostile, with 78 percent of users reporting rising incivility online and 2 in 5 blocking, unsubscribing or "unfriending" someone over an argument on social media, according to new research from the authors of the New York Times best-seller "Crucial Conversations."

The online survey of 2,698 respondents suggests contentious conversations that begin online tend to spill over into real life. The study also indicates that people are generally less polite and tensions often go unresolved on social media. Specific findings include:

•76 percent have witnessed an argument over social media •19 percent have decreased in-person contact with someone because of something they said online •88 percent believe people are less polite on social media than in person •81 percent say the difficult or emotionally charged conversations they have held over social media remain unresolved

One of the survey respondents, Laura M., is still reeling from a family rift that began in cyberspace. It started innocently enough -- her brother posted an embarrassing picture of her sister who asked him to remove it. A full-scale family brouhaha resulted when he not only refused to remove the photo, but instead blasted it out to his entire contact list. Ultimately, Laura's brother unfriended all of his siblings and has denied in-person contact with them for the past two years and counting.

Another respondent, Laura J., has seen the ripple effects of social media at work. A frustrated co-worker posted a message about wanting to "handle co-workers like we did in the old days," followed by some descriptive and violent detail. The atmosphere in the office has been tense ever since the post was made a year ago. Ultimately, employees unfriended their colleague and avoid her in the office "for fear she'll come after [us]."

Joseph Grenny, co-author of "Crucial Conversations," says these tensions arise and go unresolved in part because online conversations provide a unique set of challenges that are seldom taken into consideration when people begin typing their frustrations.

"Social media platforms allow us to connect with others and strengthen relationships in ways that weren't possible before. Sadly, they have also become the default forums for holding high-stakes conversations, blasting polarizing opinions and making statements with little regard for those within screen shot," says Grenny. "We struggle to speak candidly and respectfully in person, let alone through a forum that allows no immediate feedback or the opportunity to see how our words will affect others."