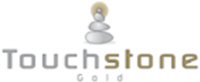 TORONTO, ONTARIO -- (Marketwire) -- 04/01/13 -- Touchstone Gold (TSX: TCH)(AIM: TGL) ("Touchstone" or the "Company") reported its financial results for the year ended December 31, 2012 and 2011. The consolidated financial statements for the year ended December 31, 2012 and 2011 and notes thereto, as well as the Management's Discussion and Analysis and the Annual Information Form are available at www.sedar.com and www.touchstonegold.com. Unless otherwise noted, all financial information is expressed in US dollars.

Highlights

Financial and corporate:


--  Cash and cash equivalents of $4,087,940 at 31 December 2012--  Net loss of $10,171,565 or $0.08 per share for the year ended 31    December 2012 (2011: loss of $9,828,749 or $0.11 per share) Private    placement raising gross proceeds of approximately $5.5 million completed    in December 2012, as previously reported
Operational:
--  Stage 4 Drilling Program focussing on the 1141 Zone, Tagual Zone and    Bern Zone commenced in February 2013--  Segovia Gold Project's land package increased over 500% to 24,699-    hectares via two successful strategic acquisitions--  Trading on the Toronto Stock Exchange ("TSX") commenced on 12 December    2012 under the ticker "TCH"
"2012 was a transformational year for Touchstone, as we achieved several key operational and corporate milestones. We begin 2013 with a substantially expanded land package following the two strategic acquisitions we completed in 2012, together with the listing on the Toronto Stock Exchange, we also begin the year with an expanded and strengthen shareholder base," commented David Wiley, CEO of Touchstone Gold Limited. "The Stage 4 Drilling Program at our Segovia Gold Project is currently underway, with assay results expected in the coming weeks. We aim to drill-test and expand the strike length of our high-grade, near-surface deposit and are excited to see the initial drill results from the new target zones. We look forward to continuing to deliver value at our operations over the months to come."
----------------------------------------------------------------------------                                                       As at          As at                                                December 31,   December 31,U.S. Dollars                                            2012           2011                                              ------------------------------Statements of financial positionCash and cash equivalents                      $   4,087,940  $   9,704,345Total current assets                           $   4,251,847  $   9,747,044Total assets                                   $  19,464,508  $  10,216,383Total current liabilities                      $   1,044,485  $   1,012,122Total liabilities                              $   1,520,337  $   1,012,122Total equity attributed to common shareholders $   1,520,337  $   1,012,122Total liabilities and equity                   $  19,464,508  $  10,216,383----------------------------------------------------------------------------                                               For the years ended DecemberU.S. Dollars except per share amounts                                   31,Statements of Operations                                2012           2011                                              ------------------------------Exploration expenditures                       $  (4,363,258) $  (3,908,350)Share-based payment expense                       (2,383,284)    (2,493,474)Depreciation                                        (112,608)      (110,634)Professional and consulting fees                  (2,320,817)    (2,168,608)Travel                                              (206,369)      (172,046)Office and sundry expenses                          (109,186)       (73,391)Salaries                                            (391,284)      (220,279)Other operating costs                               (394,643)      (241,506)Other                                                      -              -Other financial income (expense)                     109,884       (440,461)                                              ------------------------------Net loss                                       $ (10,171,565) $  (9,828,749)                                              ------------------------------                                              ------------------------------Net loss per share attributed to common shareholdersBasic                                          $       (0.08) $       (0.11)Diluted                                        $       (0.08) $       (0.11)----------------------------------------------------------------------------