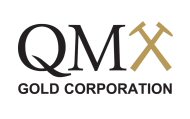 TORONTO, ONTARIO -- (Marketwire) -- 04/01/13 -- QMX GOLD CORPORATION (TSX: QMX)("QMX Gold" or the "Company") is announcing fourth quarter financial and operational results for the period ending December 31, 2012. All figures are reported in Canadian dollars, unless noted otherwise.

Financial Summary of the Company for the Year Ending December 31, 2012:


--  The Company recovered 20,112 ounces of gold, which is almost double the    amount of gold recovered in 2011, and realized an average recovery rate    of 89.7%.--  Revenue from mine operations was $30.89 million on the sale of 19,564    ounces of gold.--  Average cash costs for 2012 were $1,555 (see non-GAAP measures).--  QMX reported a net loss for the year of approximately $16.2 million    which includes mine operating expenses of approximately $30.4 million    and impairments charges of approximately $5.7 million.
2012 Year-End Financial Results
In the twelve months ending December 31, 2012, QMX Gold sold a total of 19,564 ounces of gold generating $30.89 million in revenue for the Company. This aggregate revenue number is up from revenue of $15.54 million in the corresponding period of 2011 and represents a 99% increase. Positive revenue figures can be attributed to an increase in gold production from 10,268 ounces in 2011 to 20,112 ounces in 2012 and an increase in average recovery rates from 85.2% in 2011 to 89.7% in 2012. The average sale price was $1,661 per ounce of gold.
In this same period, mine operating expenses totaled $30.43 million and depreciation amounted to $5.41 million for a gross loss for the year of $4.95 million and a net loss of $16.16 million or $0.54 per share. Of this loss, $4.29 million can be attributed to financing costs relating to short term loans and $5.66 million for impairment charges on mineral properties.
The production target for 2012 was set at 18,500 to 20,500 ounces of gold produced, which was achieved. Cash cost targets were set at $1,300 to $1,500 and, based on fourth quarter results, were slightly higher than budgested at $1,555 per ounce.
Fourth Quarter Financial Summary:
--  The Aurbel Gold Mill recovered 3,995 ounces and realized an average    recovery rate of 87.8%.--  Revenue from mining operations was approximately $6.3 million for the    quarter on the sale of 3,982 ounces of gold at an average realized price    of $1,698 per ounce.--  Cash cost per ounce of gold production from Lac Herbin was $2,006 per    ounce (see non-GAAP measures).--  The Company reported a net loss for the quarter of $4.2 million which    includes a loss of $2.72 million from mine operations.--  QMX Gold entered into a bridge financing arrangement with Third Eye    Capital Partners for $17.5 million.
Fourth Quarter Financial Results
QMX Gold sold 3,982 ounces of gold to generate $6.34 million in revenue from mining operations during the fourth quarter of 2012 with an average gold sale price of $1,698 (USD $1,714) per ounce. Mine operating expenses were $7.99 million and depreciation and depletion amounted to approximately $1.07 million resulting in an aggregate gross loss of $2.72 million. The cost of sales per ounce sold during the current quarter, excluding depreciation and depletion, was $2,006 per ounce (see non-GAAP Measures). Cash costs were negatively affected this quarter by lower than expected grades which impacted average recovery rates.