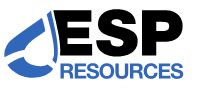 THE WOODLANDS, TX -- (Marketwire) -- 04/01/13 -- ESP Resources, Inc. (OTCBB: ESPI), an oil and gas services company, announced the Company's audited financial results for the twelve and three months ended December 31, 2012.

Revenue for the year-ended December 31, 2012 was $18,086,765, compared to $11,132,243 for the same period in 2011, an increase of $6,954,522, or 62%. The increase was due to several factors including an expanded customer base in the Southern Louisiana, Southeastern Texas and Arkansas regions and an increase in sales volume as a result of increased demand for petrochemical sales and services to customers engaged in the hydraulic fracturing of oil and gas wells. In addition, the Company increased revenue to several of its existing customers through sales of additional production petrochemical products at its existing customers' well-sites.

The Company's gross profit, as a percentage of revenue for the year, was 44% compared to 52% for the same period in 2011, a decrease of 8%. The decrease in gross margin was a result of a significant increase in sales of completion petrochemicals that have a lower gross profit margin compared to production petrochemicals.

General and administrative expenses, net of amortization and depreciation, impairment of certain intangible assets and a gain on de-recognition of contingent liability increased by $2,390,445, or 27% for the year, compared to the same period in 2011. The increase in expenses for the year is primarily due to the expansion of the Company's operating personnel from 43 to 52 employees and the cost of international business development of $828,000 that the Company spent on evaluating and developing certain international opportunities compared to $377,000 in the prior year. The Company also incurred approximately $690,000 in legal fees in 2012 as a result of certain litigation, namely the trade secret infringement lawsuit that the Company initiated in March 2012 to protect its trade secrets and $352,000 in development of environmental markets. There were no comparable amounts in the prior fiscal year. The stock based compensation included in the general and administrative expenses was $2,482,678 and $2,960,428 for the years ended December 31, 2012 and 2011, respectively.

Net loss for the year ended December 31, 2012 was $5,081,732, an increase of $756,218 compared to a loss of $4,325,514 for the same period in 2011. The primary reason for the increase in net loss was an increase in derivative liability of $293,843 and, as noted above, the investment in international and environmental development during the year ended December 31, 2012.

Mr. David Dugas, President of ESP Resources, Inc., commented, "Our significant increase in revenues for 2012 highlights our unique product and service offerings to our new and existing customers. We will continue to strive for significant revenue increases, but we now also recognize that it is incumbent upon us to reach profitability in this next phase of our growth."

Mr. Dugas continued, "We have already begun to implement a reduction in our operating costs without sacrificing our ability to take advantage of both domestic and international business opportunities. International business development expenses, legal fees and stock-based compensation are three areas that we can reduce expenses since much of these costs were one-time expenses that will not be realized in 2013."