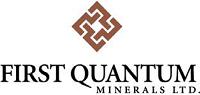 VANCOUVER, BRITISH COLUMBIA -- (Marketwire) -- 03/08/13 -- First Quantum Minerals Ltd. ("First Quantum" or the "Company") (TSX: FM)(LSE: FQM) today announced that it has received approval under the Investment Canada Act from the Minister of Industry and Minister of State for its offer ( the "Offer') to acquire all of the outstanding shares of Inmet Mining Corporation ("Inmet", TSX Symbol "IMN"). In granting the approval the Minister concluded that "your investment is likely to be of net benefit to Canada".

Commenting upon the approval, Mr. Philip Pascall, CEO and Chairman of First Quantum, said:

"Approval under the Investment Canada Act was a condition of our Offer, and we are pleased this condition has now been satisfied."

The Offer is open for acceptance until 11.59 pm (Eastern Daylight Time) on March 11, 2013, unless extended or withdrawn.

Advisors and Information Agent

First Quantum has engaged Jefferies International, Goldman, Sachs & Co., and RBC Capital Markets to act as its financial advisors in connection with the Offer. Fasken Martineau DuMoulin LLP is acting as legal counsel to First Quantum in connection with the Offer.

Georgeson Shareholder Communications Canada, Inc. has been retained as information agent for the Offer. Shareholders may contact Georgeson at:


Toll Free (North America): 1-866-656-4120Outside North America Call Collect: 1-781-575-2421Email: askus@georgeson.com
About First Quantum
First Quantum is a leading international mining company with a global portfolio of copper and nickel assets located in Africa, Australia, South America and Europe. For the twelve months ended December 31, 2012, First Quantum generated revenue and adjusted EBITDA of US$2,950 million and US$1,143 million respectively and produced 307 kt of copper, 38 kt of nickel and 202 koz of gold. A diverse portfolio of profitable operating assets and quality growth projects makes First Quantum one of the fastest-growing mining companies in the world. First Quantum is listed on the Toronto, London and Lusaka Stock Exchanges, with a market capitalization of approximately US$10 billion.
First Quantum has earned a strong reputation as an industry leading developer of high-quality base metals projects globally. Although a significant copper producer currently, First Quantum is itself in a phase of transformational growth, with an anticipated tripling of copper production by the end of 2018. To achieve this growth, the First Quantum team is building on its significant experience in project development, with a proven record of successfully developing resource assets. The capital intensity of our Kansanshi and Sentinel developments, for example, at approximately US$5,000 / tonne and US$6,000 / tonne, respectively, are among the lowest in the industry. Importantly, First Quantum has consistently delivered superior shareholder returns, averaging 32 percent per annum over the period 2000 to 2011.
Forward Looking Information
Certain statements and information in this press release, including all statements that are not historical facts, contain forward-looking statements and forward-looking information within the meaning of applicable securities laws. Such forward-looking statements or information include but are not limited to statements or information with respect to the anticipated completion of the proposed Offer and the anticipated strategic and operational benefits of the Offer. Often, but not always, forward-looking statements or information can be identified by the use of words such as "plans", "expects" or "does not expect", "is expected", "budget", "scheduled", "estimates", "forecasts", "intends", "projects", "anticipates" or "does not anticipate" or "believes" or variations of such words and phrases or statements that certain actions, events or results "may", "could", "would", "might" or "will" be taken, occur or be achieved.