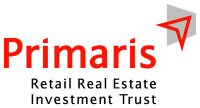 TORONTO, ONTARIO -- (Marketwire) -- 03/08/13 -- The amended press release of Primaris Retail Real Estate Investment Trust reflects a correction to Primaris' weighted average basic and diluted units outstanding for the three months ended December 31, 2012 and all the calculations based upon those amounts, and supersedes the version released on March 7, 2013.

Primaris Retail REIT (TSX: PMZ.UN) is pleased to report fourth quarter operating results for the period ending December 31, 2012. These results have been prepared in accordance with International Financial Reporting Standards ("IFRS").

President and CEO, John Morrison, commented "We are very pleased with our strong operating results for the 2012 fourth quarter and calendar year. Our tenant sales trend has turned positive, having begun the year in negative territory. The portfolio occupancy rate improved throughout the year contributing to the excellent financial results. These strong results are directly attributable to the passionate and dedicated team at Primaris.

"As announced on February 5, 2013, Primaris has entered into an Arrangement Agreement and various conditional sales agreements whereby the assets of Primaris will be purchased by a KingSett Capital-led consortium and H&R REIT, and Primaris will become a wholly-owned subsidiary of H&R REIT. These transactions are subject to many conditions more fully described in a circular dated February 19, 2013. The circular is available on SEDAR and on Primaris' website."

Bill Biggar, chair of the Independent Committee of the Primaris board of trustees, commented "The board strongly endorses these transactions and encourages Unitholders to vote in favour of the transactions at the Unitholders' meeting on March 22, 2013."

Highlights

Funds from Operations (FFO)


--  FFO for the quarter ended December 31, 2012 was $29.7 million, down $5.0    million from the $34.7 million reported for the fourth quarter of 2011.    On a per unit diluted basis, FFO for the fourth quarter of 2012 was    $0.301, down $0.106 from the $0.407 reported in the same quarter of    2011.--  FFO includes $10.5 million of non-recurring charges related to a    takeover. When these takeover charges are excluded, Operating FFO for    the fourth quarter is $0.407 per unit on a diluted basis. This is the    same as the fourth quarter results of 2011. Operating FFO for the three    months and year ended December 31, 2012 also included a charge for early    debt repayment of $0.9 million. There was no similar charge in the prior    periods.--  FFO for the year ended December 31, 2012 was $132.1 million, up $21.3    million from the $110.8 million reported for the prior year. On a per    diluted unit basis, FFO for the 2012 year was $1.439, as compared to the    $1.415 for the prior year.--  Operating FFO on a per unit diluted basis for the year ended December    31, 2012 was $1.549, up $0.098 from the $1.451 result of the 2011 year    end.--  FFO, and Operating FFO, are not terms defined under IFRS and may not be    comparable to similar measures used by other Trusts. A reconciliation of    net income to FFO and Operating FFO is included.